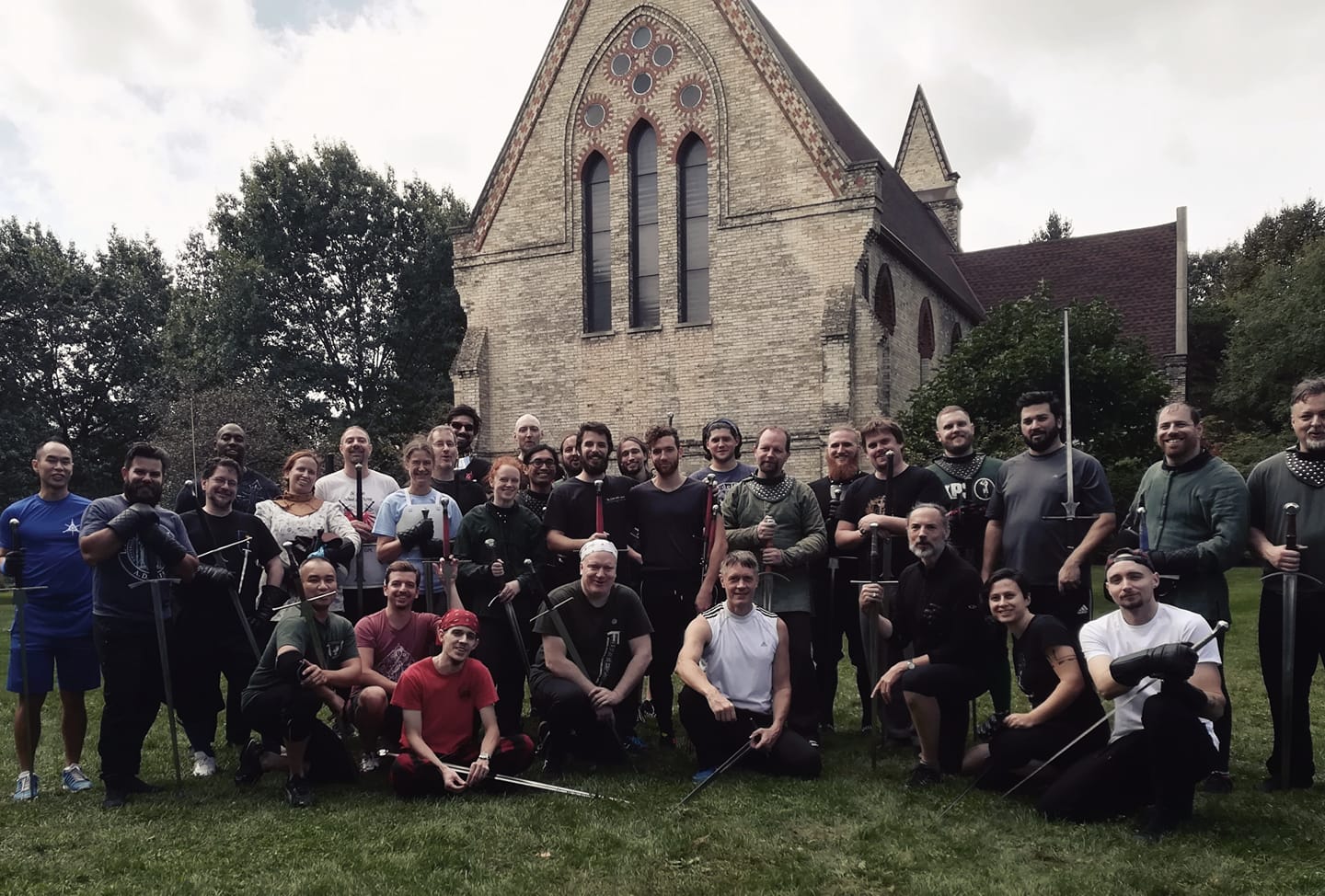 This past weekend (9/17 – 9/23/2018) was the latest "off-year" or "WMAW lite event" – the theme-focused event we hold with attendance no larger than those we can sleep at the Dekoven Foundation, the beautiful neo-gothic retreat center that has been home to the Western Martial Arts Workshop since 2005.
This year's event was L'Arte delle Armi, or a Night at the Opera Nova, an event entirely dedicated to the Bolognese tradition of the 16th century, and featured an international staff of instructors — Devon Boorman, Academie Duello (Canada), Christian Cameron, Hoplologia (Canada), Ken Harding, St. Louis School of Arms (USA), Greg Mele and Rob Rutherfoord, Chicago Swordplay Guild (USA), and Jacopo Penso and Moreno dei Ricci, Opera Nova (Italy) – with lessons derived from all of the major Bolognese masters-at-arms. Classes also covered the entire breadth of the tradition, from spada solo to two-handed sword, dagger vs. dagger to partisan and rotella.
The Classes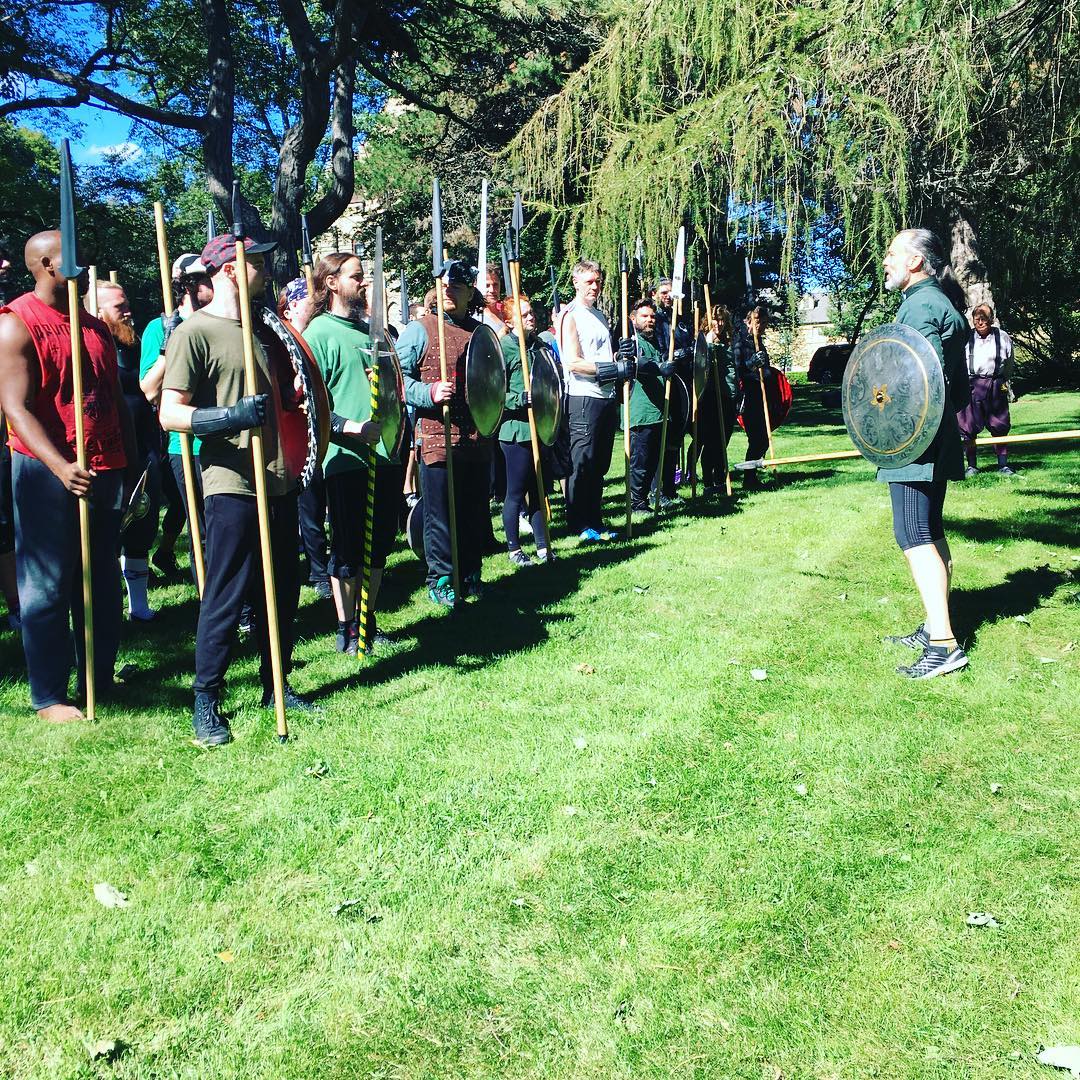 Of the various 'schools' of European martial arts, none has a curriculum as diverse as the Bolognese. Often, modern practitioners just focus on sword and sword and buckler, treating the tradition as the antecedent of rapier fencing (it was) and the first "civilian, dueling  tradition" (it isn't), but in reality, the masters of this tradition taught the full complement of knightly weapons: one and two-handed sword, spear, poleaxe, dagger, along with every martial and civilian companion arm that can be included with the sword — bucklers, cloaks, daggers, gauntlets — and a variety of polearms associated with infantry soldiers, such as halberds and bills. It is a deep, rich tradition, and I am happy to say that it was represented as such during the event.
CSG's Rob Rutherfoord showed the technical precision of the art in his Imbroccata class, and its "quirky" side in his final class on sword and gauntlet.  Ken Harding, taught Marozzo's spada solo, which is far more dynamic and aggressive than the more conservative "narrow play" of Manciolino and Dall'Aggochie.
The Imbroccata, or Punta Sopramano — Rob RutherfoordThere is a longer segment of the class here, but the sound volume is poor:
Marozzo was also particularly well represented in over six hours of instruction on the spada a dui mani ("two handed sword"). Originally, Maestro Roberto Gotti, who is the world's foremost authority on Marozzo and his use of this weapon, was going to attend the event, but work intervened, so two of his senior students — Jacopo Penso and Moreno  dei Ricci — attended in his place. I do not think anyone felt cheated as the guys presented two amazing workshops that really brought the power and elegance of this weapon to life.
The Two-Handed Sword of Achille Marozzo — Jacopo Penso and Moreno dei Ricci
Devon Boorman is a regular at our events, and taught a diverse array of classes, from tactical decision making in sword and buckler to that tour-de-force of Bolognese swordsmanship: wielding a sword in each hand. Here's a peak of what it looks like when two men swing four swords at each other:
Two-Sword Demonstration — Devon Boorman (with Matheus Olmedo).

I taught a class on two-handed use of partisan, which was great fun, and for my money, is the most elegant polearm of all. But perhaps one of the most unusual, and well-received, classes, was Christian Cameron's partisan and rotella class. This weapon combination was taught by Marozzo and Manciolino, and is recorded in 15th c judicial duels. It seems to have been a conscious effort by Italian fencers, influenced by the Humanist fascination with antiquity, to fight in a fashion they imagined would have been used by Achilles and Hector. In essence, it is a reconstructed martial art — 16th century style! Christian, who is a renowned researcher in Ancient Greek fighting arts made a point of showing how Marozzo's play corresponds to their own reconstruction from vase art. It was a fascinating demonstration, and many people loved playing hoplite — so many that we now have some interesting ideas about an "Oplomachia" track (a "School of the Soldier") for WMAW. I won't say more now, besides, anyone know where we can get a few dozen pikes?
The full event schedule is here.
Evening Free-Play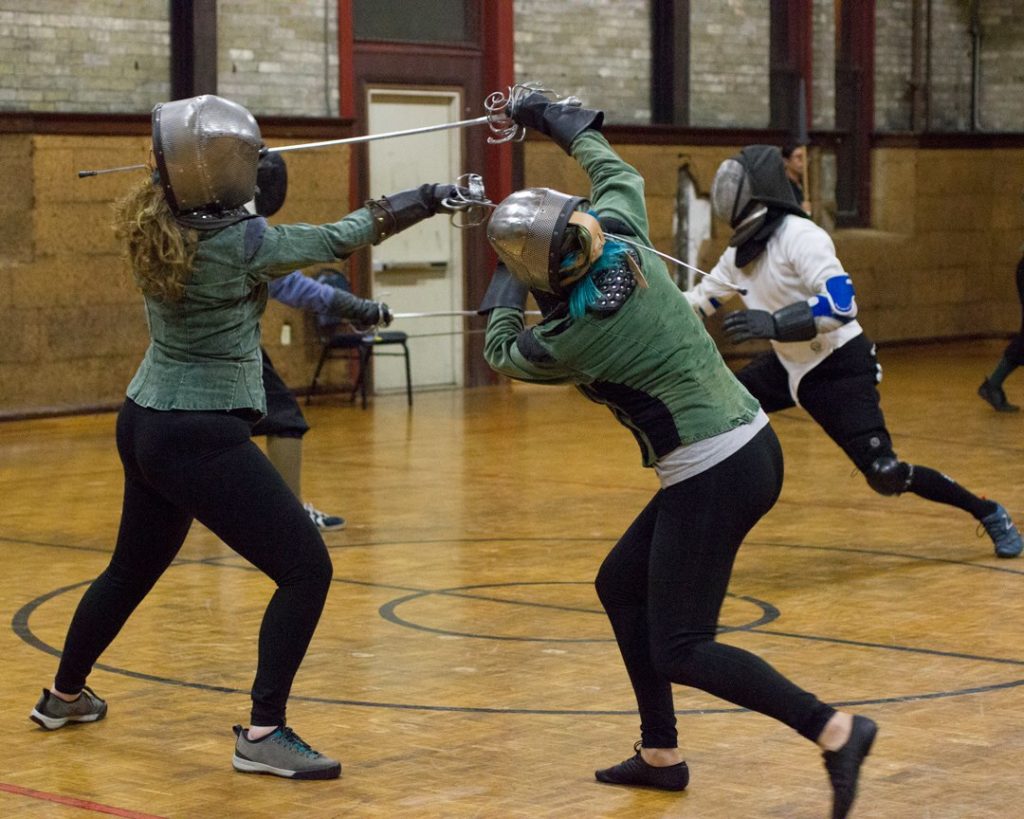 Each night after dinner, we opened the gym to two hours of free-fighting that saw probably thirty or so people trying their hand at what they had learned that day. While most fighters wielded sword alone, sword and buckler or two-handed sword, a surprising number of folks decided to try their hand at partisan, and partisan and rotella…and to our horror, a few rapiers wandered onto the floor.
The Tournament
We don't hold tournaments at WMAW, but we usually do some sort of low-key, friendly competition at the off-year event, and this year no exception: a three round tournament that included both judged and self-judged components, with a rule-set derived from the hints provided in Manciolino (1531) and the Anonimo Bolognese (c.1550).
This is informal combat at arms, was fought in three rounds:
A self-judged Challenge Round with spada solo;
A self-judged, Challenge Round with sword and any companion weapon or longsword;
A judged Final Round
Challenge Rounds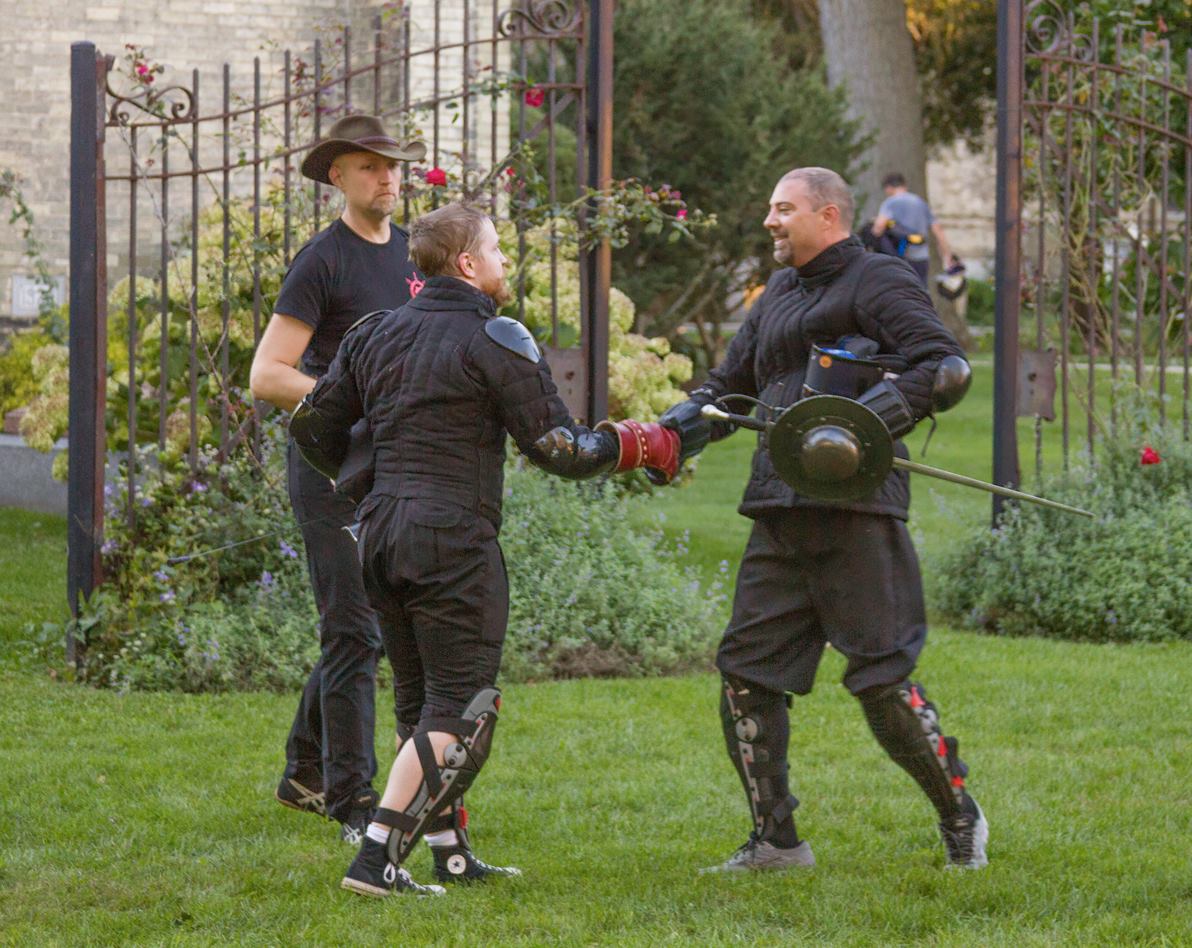 We have used this format at two previous "off year" events: You challenge someone to combat, each with your agreed upon weapons, and report your score to the Recorder of Deeds. Each round is 45 minutes long, so the more fights you get, the better your chances to advance!
What was different this year is that each bout was fought to a total of 5 points scored against one person, using the following scoring system, adapted from Antonio Manciolino and the Anonimo Bolognese:
The entire body is a target;
Cuts or Thrusts to the Head counts for three points;
Cuts or Thrusts to the Sword Arm or Leg counts for two points;
All other blows, including pommel strikes to the face, count for one point;
A throw that leaves the thrower standing is a victory. ("If you lift your opponent from the ground, you will be considered victorious.");
After being hit, you have the time of one pass to strike back one blow at your opponent in order to redeem your honor.
Scoring
When the bout was over, the Marshal scored the fight, using the following metrics:
Overall Victor receives 2 pts;
If the Victor was not struck, he or she receives 1 pt additional;
The person who scored the first blow receives 1 pt;
If there were any double hits during the match, both parties lose 1 pt.
Therefore, in any match a combatant could score between 4 and -1 points.
These rules are not meant to be "realistic", simply to prioritize drawing first blood and avoiding being hit and, most especially double-hits. No matter how many double hits, for the sake of simplicity, only 1 pt is lost. However, additional double hits are not refought, so if you rack up too many double-hits, the victory in that match is going to go with who scored the first blow, and your overall score is going to go down!
Advancement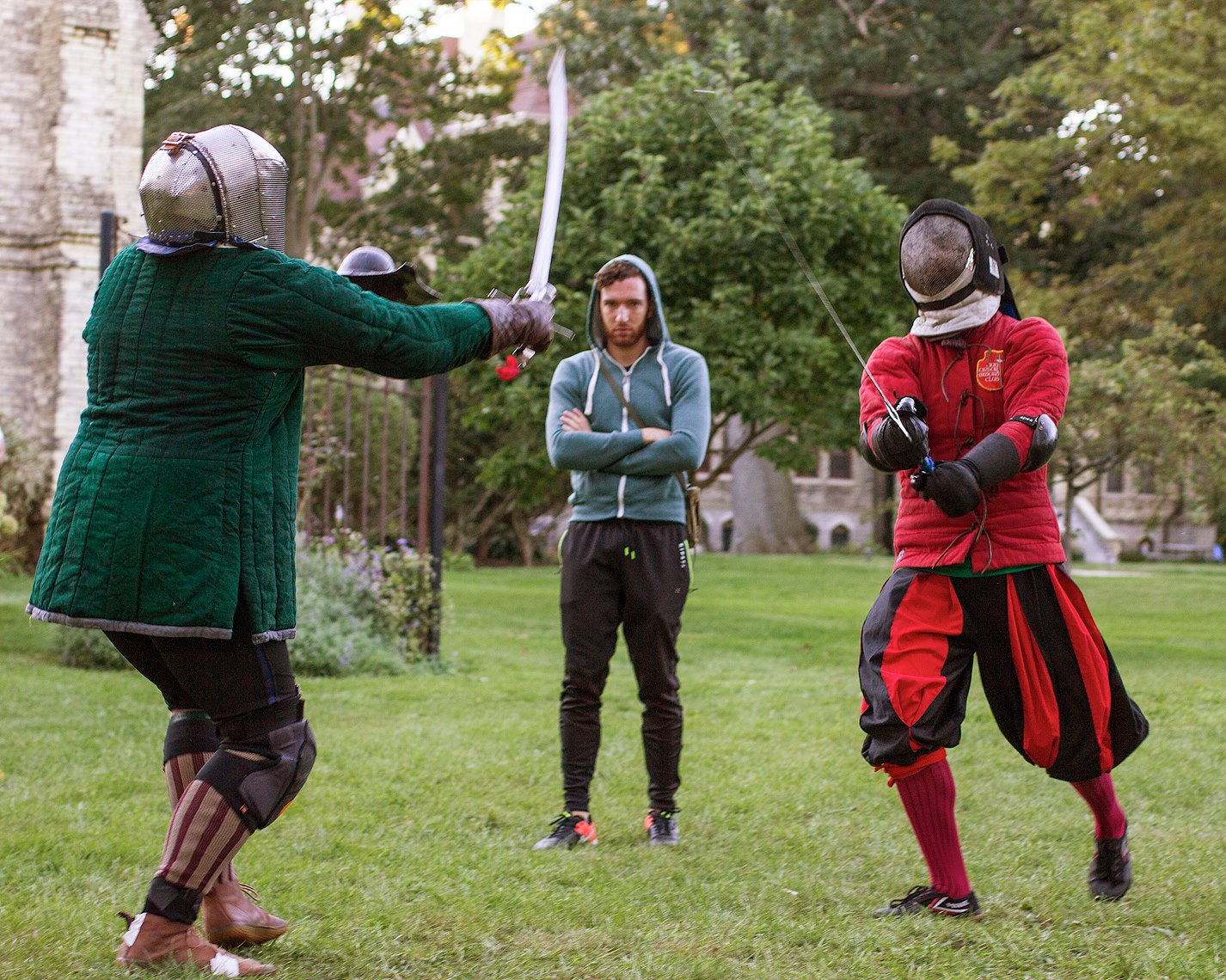 There were two ways to advance to the final round of six combatants — by Score or by Accolade.
By Score
After the Challenge Round ends, total scores for each will be totaled, and the two combatants with the highest score and the two combatants with the highest number of first blood scores will move to the finals. (If one person wins both categories, then the person with the next highest total score will advance. Ties are broken by who received the least amount of double-hits.)
By Accolade
Two combatants shall advance to the finals by acclaim, one chosen by one's fellows, and the other chosen by the Instructors.
Accolade of Peers
All participants in the tournament are given one vote that they may cast for any other combatant other than themselves or an Instructor. The combatant who receives the most votes shall advance to the finals.
This was close, as there were three fighters all tied in votes, Adam Franti of the Lansing Swordplay Guild edged the competition out to advance.
Accolade of Instructors
The Instructors shall choose one combatant whom they thought best represented their art and the spirit of the tournament, and this shall make the fourth challenger in the finals.
Again, this was close, but the instructors chose Brandon "Ted" Pool of the CSG because of his efforts to maintain a Bolognese form throughout his fencing, his use of correct technique to enter *and* exit the fight, and his low incidence of double-hits.
Elimination Round and Finals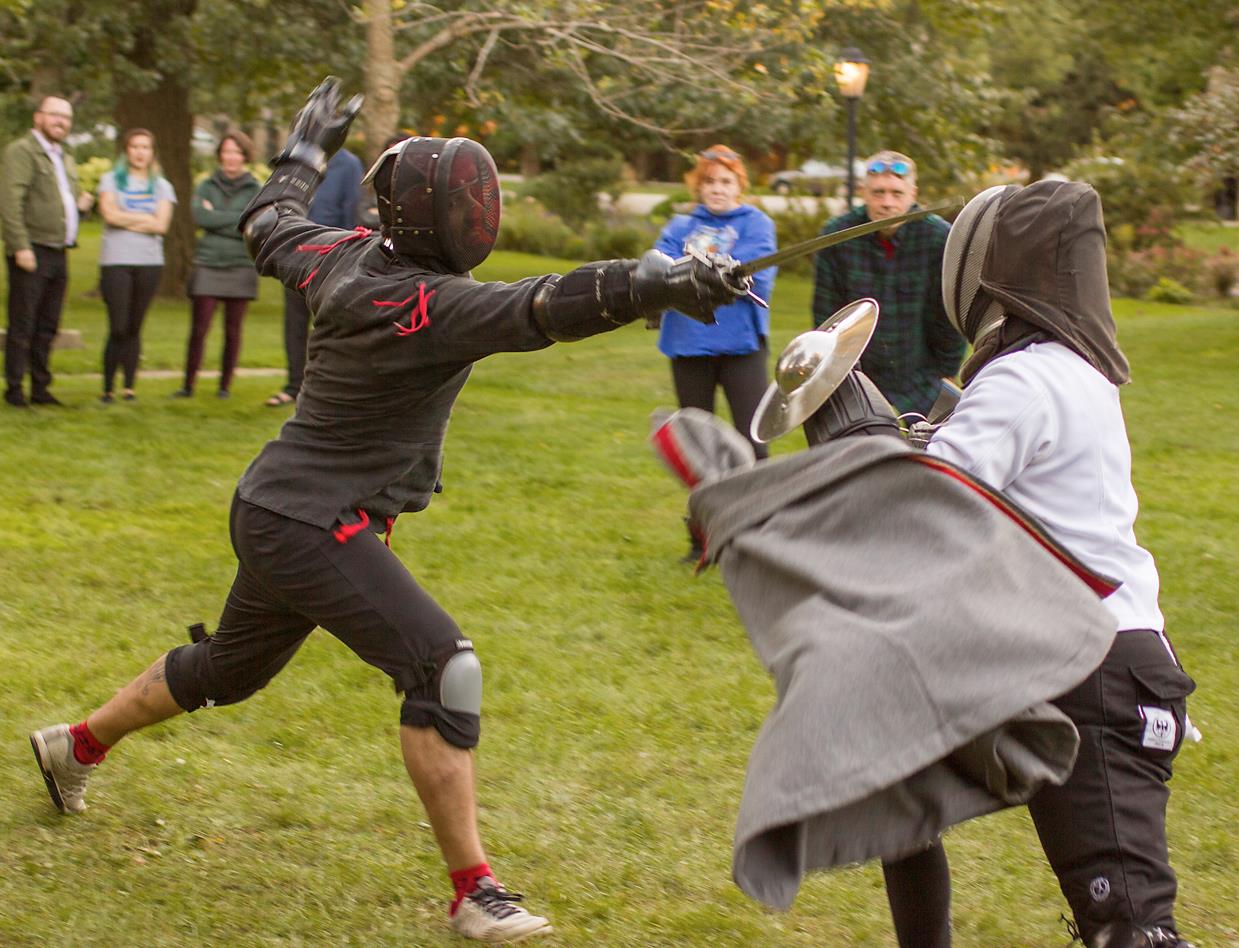 Once the six second round combatants were assembled, they were split into two pools of three, fighting round-robin style under the previous conventions.
The winner of each pool was Ben Mendelkern from Madison, WI, and Matheus Olmedo of Academie Duello in Vancouver. The bout was fought sword and buckler (Ben) vs. sword and cloak (Matheus), with Matheus the overall victor. You can see a video of the final bout here:
Preliminary Conclusion on the Rules
So what did we think of the Bolognese rules?
Honestly? Meh.
The concept makes sense: points are weighted to one of the principle targets (the head) and the hardest to hit safely and not be hit (the leg). Thrusts to the body, while lethal, score less well because they aren't fight ending. Of course, Manciolino himself says that swordsmen should target the dominant hand and make striking it a priority, yet this is not reflected in his rules (we know why — safety — or at least he alludes to this), and the Bolognese after-blow led to just as messy a set of resolutions as any other after-blow.
I addressed the first problem by making sword arm attacks score just as well as leg blows, but overall, with the rules making it less desirable to thrust to torso, and the after-blow increasing the number of double-hits, I am not sure the rules added anything new or interesting.
Assalti Demonstration
At our closing remarks on Sunday, I asked Devon, Matheus, Jacopo and Moreno to demonstrate several of the traditional assalti of the tradition. The assalti are one of the distinguishing traits of Bolognese swordsmanship — elegant solo-forms which can also be transformed into paired exercises. Arguably, if you don't study the assalti you are skipping the heart and soul of the tradition. On the other hand, if you do them as some sort of elegant dance without understanding their application, you have nothing more than just that — an elegant dance.
Here are the assalti, as filmed by Jess Johnson and Shanee Nisry. I believe they speak for themselves.
Assalto One: Sword and Buckler — Devon Boorman
Assalto Two: Two-Handed Sword — Jacopo Penso and Moreno dei Ricci
Assalto Three: Sword & Cloak — Matheus Olmedo
Conclusion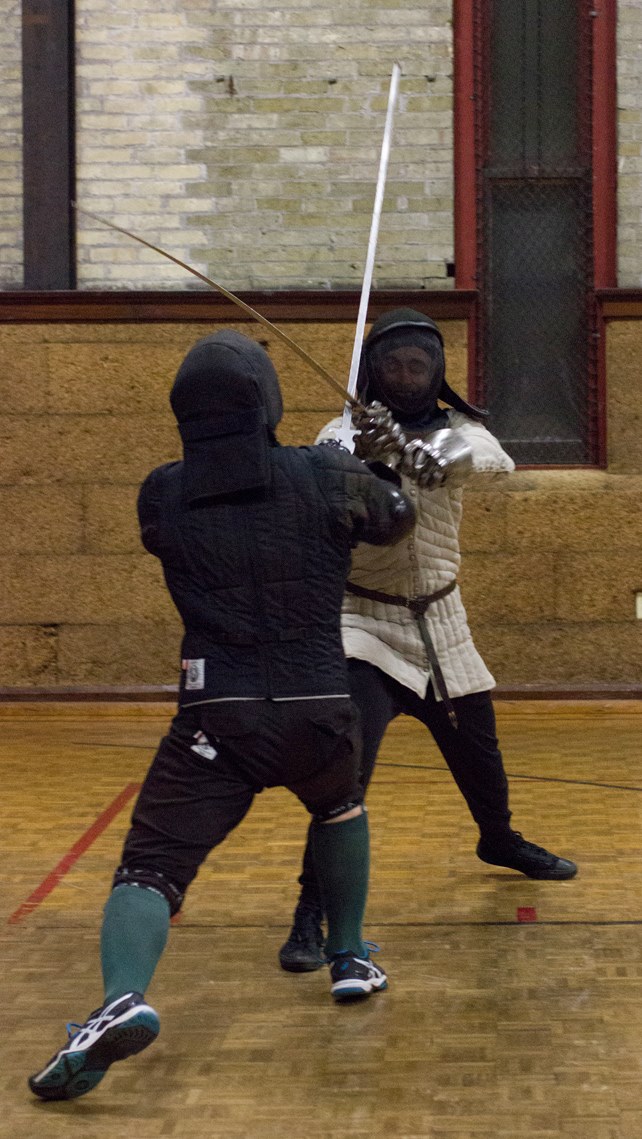 Three years ago, this event could not have happened. There just weren't enough people involved in Bolognese swordsmanship to fill the hall. When I announced it last year, I still wasn't sure we could get enough bodies to fill a "Bolognese only" event. As it turned out, with a maximum allowed attendance of 85, we had 79 people — our best off-year showing since we began the event in 2009!
A lot of things have led to this change. In 2010 Tom Leoni published a translation of Manciolino's Opera Nova, making one of the best, and certainly most concise, works of the Bolognese masters available to an Anglophone audience. To this is added Jherek Swanger's translations of Viggiani, Dall'Aggochie, and most importantly, his new translation on Achille Marozzo. Finally, Stephen Fratus has made his work-in-progress translation of the Anonimo freely available, which means that every text in the tradition is now available in English. The Giovanni Dall'Aggochie Facebook group has become a centerpiece for discussing Bolognese fencing and is unusual for both the high level of signal-to-noise and the cordiality of posters. In short, there is now a small, but thriving community dedicated to his incredible tradition, and I hope this event has only added to its growth.
L'Arte delle Armi or a Night at the Opera Nova would not have been possible without the hard work of not only our instructor roster but our staff: John O'Meara, Nicole Allen, Tasha Mele and Marcie Vereline, to whom I am deeply grateful.