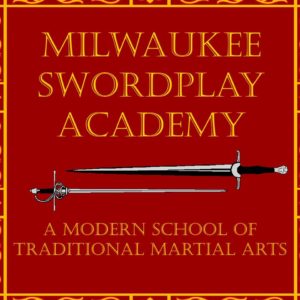 The Milwaukee Swordplay Guild offers classes in Western Martial Arts (WMA), offering two main tracks of instruction that focus on combative arts from Medieval and Renaissance Italy (1350-1650):
Medieval Combatives: Armizare is the period term for the complete system of the knightly battlefield art of the late Medieval and early Renaissance periods in Italy. The versatile and powerful longsword is the central weapon of this art. Unarmed combat, dagger, spear, arming sword, and sword & buckler are options for further study as you progress through the ranks.
Renaissance Combatives: This track explores the dual aspects of 16th and 17th C. Italian martial traditions. The elegant rapier – a status symbol, deadly piece of masculine jewelry, and tool of the duelist – is the central weapon of the civilian aspect of this art. Study starts with the sword alone, and later options include dagger and cloak. As students progress through the ranks, they also have the option to study the sidesword. Taught in the University of Bologna as well as used by the citizen-soldiers of Venice, the this fast and powerful cutting sword is the central weapon of the military aspect of the art.
Milwaukee Swordplay Academy
3167 S 92nd St
Milwaukee, WI 53227
Introduction to Renaissance Rapier
Monday and Wednesday, 6:30-7:30
Introduction to Radaellian Saber
Monday and Wednesday, 7:30-8:30
Novice Rapier, Open Floor, and Private Lessons
Saturday, 12:00-2:00 PM
Introduction to Knightly Longsword
Tuesday and Thursday, 6:00-7:30 PM
Novice/Companion Armizare
Tuesday and Thursday, 7:30-9:00 PM
Scholar Armizare
Tuesday and Thursday, 9:00-10:00 PM
Razmafzar Historical Persian Martial Arts seminars
First Sunday of the month, 9:00 AM to 4:00 PM
Book club meeting
Second Wednesday of the month, 8:30 to 9:30 PM
The courses include demonstrations, drills, and free-play with safety gear and simulated weapons. Beginners welcome, age 18 and older. No prior martial arts experience required.
Cost: The Introductory class is $140 for a 6-week (12 session) course. Regular tuition is $110/month.
To register for a class or inquire further, simply email us at mkesword@gmail.com or call 414-316-7479.