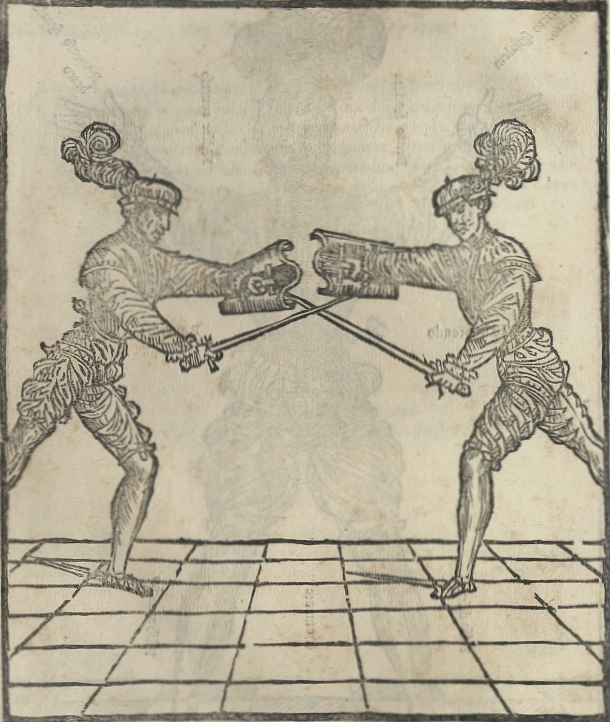 Mark your calendars for September 2014!
The Chicago Swordplay Guild and the DeKoven Foundation – the same team that have brought you WMAW for over a decade – are please to present an event for students in the Noble Art and Science of Defense: The DeKoven School of Arms. After years of attendees decrying a two-year wait between WMAW's, in 2009 we hosted The 600: Prepare for Fiore – a celebration of the 600th anniversary of the Flower of Battle. This was followed by last year's Armizare Academy.
In 2014, we turn to the Mediterranean Renaissance and the art of the duel! This full, three day event will feature:
A roster of leading instructors and experts in Renaissance Swordplay, including Devon Boorman, Puck Curtis, Tom Leoni, John O'Meara and Tim Rivera
Introductory and in-depth classes in early 16th century swordplay, including Iberian "Esgrima Comun" and Bolognese swordsmanship;
Expert instruction in the jewel in the crown of Renaissance Italian swordplay: the elegant rapier;
A chance for extensive training in the mysteries of LaVerdadera Destreza;
Lectures and demonstrations;
A Contest of Arms with sword, rapier and their trusted companions, the buckler and dagger.
Located at the picturesque DeKoven Center, home to the Western Martial Arts Workshop, the conference is a retreat with attendance limited to the 60 students that DeKoven can host. Your registration fee  includes entry, lodging and all nine, hot meals.
This is a unique event and a unique opportunity to train in a private environment with some of the finest modern teachers of the Art of Defense. Act now, because spaces will go fast. We look forward to crossing swords with you!
DETAILS:
Dates: September 19 – 21, 2014
Location:
The DeKoven Center
600 21st Street
Racine, WI 53403
(Details for getting to Racine can be found on the WMAW website)
Accommodations:
On campus; all rooms have two single beds. You will be able to request the roommate of your choice when you register, and we will make every effort to accommodate you. Lodging is from Thurs to Sat.
Nine hot meals.
Costs:
$300.00 inclusive before March 1st; $375 thereafter. (Almost a 25% savings for early registration!) No cancellation refunds after July 1st, 2014
Registration Contact Info: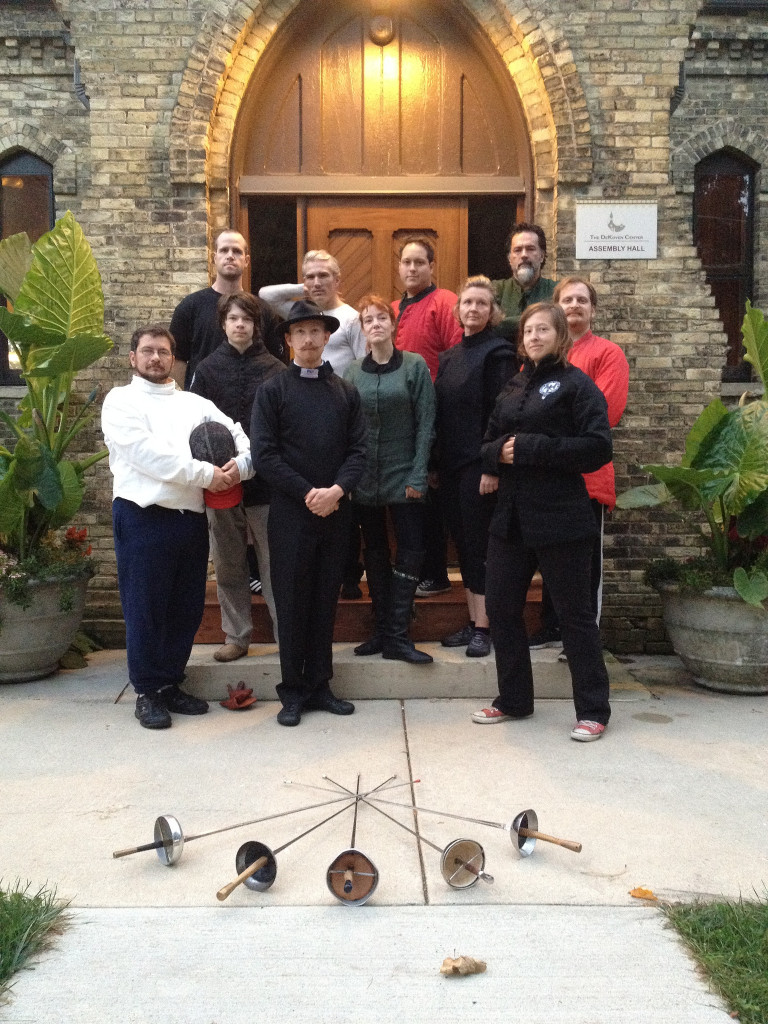 Whew! As is a decade-old tradition, eight days after it began, Sean Hayes was the last to board the plane, officially turning out the lights and locking the door on the Western Martial Arts Workshop.
WMAW 2013 was our most packed event ever, not just in terms of classes, but with an armoured Deed of Arms (actually, a Deed within a Deed – more on that later), an on-going Challenge Tournament, an early-morning Duel at Dawn and more lectures than we have ever had before. Based on early feedback, I think it all worked, or mostly worked, but the downside was that many of the special events required special planning meetings on site, so as part of the event staff, I saw less of the actual classes than I normally do.
NEW INSTRUCTORS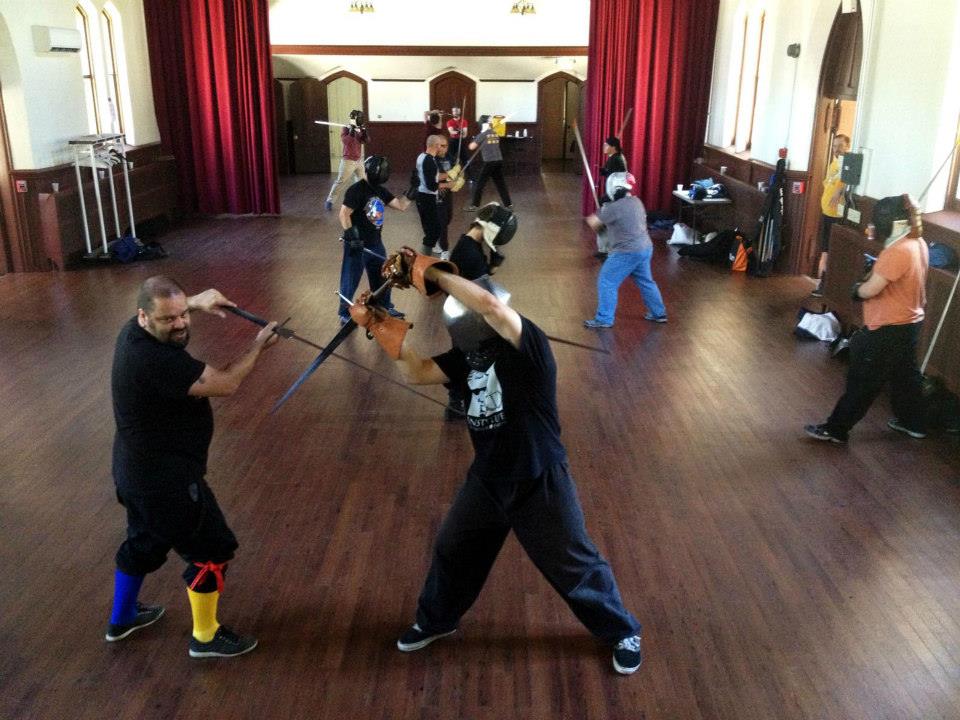 We try to change out about 1/5 of the instructor roster each WMAW, bringing in new folks from both the US and abroad. This year our new faces included Tim Rivera (Esgrima Comun, USA), Roger Norling (All-Meyer-All-the-Time, Sweden), Mishael Lopes Cordoza (German longsword, Holland) and Roberto Laura (Traditional Italian Stick and Knife, Germany).
Despite by best efforts, it proved impossible for me to get to Tim's Spada e Rodella (sword and round shield) class, although it received rave reviews from my students, as did Lopes' Dutch dagger fighting class, which one my students dubbed: just like Fiore, only meaner and more vindictive. Fortunately, I *was* able to take most of Lopes' longsword cutting patterns class and to audit Roger's short staff class.  Neither disappointed. "Techno-Viking" moniker aside, Lopes is an articulate instructor with fantastic body-mechanics who was able to relate why the patterns he was teaching were not just mechanically efficient, but tactically preferable in terms of tempo and line. It was a great class, even if I got pulled out to go deal with some administrative issues about 2/3 of the way through.
Roger Norling and I share a love of polearms, so when I invited him to come, I of course insisted he teach a class on Meyer's staff. This three hour workshop was a real highlight, not just because I think Meyer has left us a brilliant, elegant and powerful system of staff-fighting, but because Roger's pedagogy was equally brilliant. Ably assisted by new friend, fellow Illinoisan and brother-at-arms Chris Vanslambrouk of the Meyer Freifechter, from the moment he began his warm-up, everything Roger taught was designed to initiate students in the body mechanics and broad motions of the art. The Gothenburg Historical Fencing Society is known for its physicality and conditioning, and Roger brought this to his teaching: the first hour of the class would have been a fantastic stand-alone class in relating warm-ups and conditioning to your martial arts practice. Fortunately, there was two more hours of solo and paired work and people got a great work out, exposure to an art most of them had never seen before and I suspect an eye-opener as to the power of the humble staff….
Speaking of sticks and staves, I have already talked at length about my teacher Roberto Laura's dedication and mastery of the traditional staff and knife arts of Italy, but I was eager to share his knowledge with the larger HEMA community. For those who do not know Roberto Laura, after many years in traditional Asian arts, he has spent the last twelve years traveling back and forth from Germany to Italy to research, document and train in traditional Italian arts. At WMAW, he presented a class on the shepherd's staff from the Scuola Fiorata of Sicily, and a 3 hr workshop on the dueling knife both the Fiorata and Calvieri d'Umilita schools. These were some of the first classes to fill up in registration, and I don't think anyone was disappointed. I think they also learned what I mean when I say that Roberto demonstrates what "sprezzatura" looks like in action. I suspect these old folk arts may gain some new students here, thousands of miles from their home…
As a side note, I will add that my good friend Jorg Bellinghausen has told me to invite three people to WMAW over the years: Roland Warzecha, Christian Eckert and Roberto Laura, and his recommendations have always become event favorites. Moral of the story – listen to Jorg. Well, maybe not after hours, after a few beers and smokes, but otherwise…
THE USUAL SUSPECTS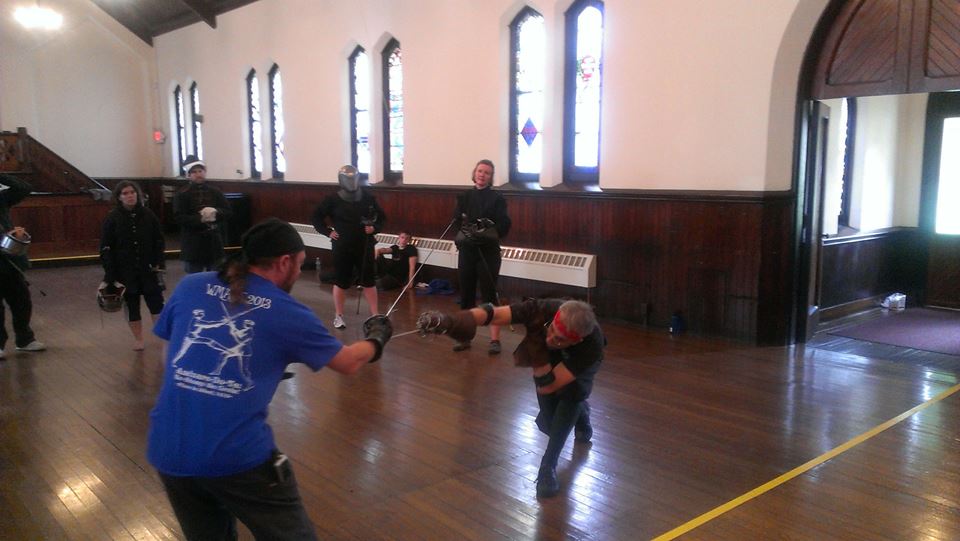 Speaking of Jorg, he also taught a brilliant class toward the end of the weekend (what the instructors named "the Graveyard Shift") called "The Sword Comes from the Messer", that demonstrated adaptations of messer play to longsword, rather than the other way around. This became was one of tidiest, most concise lessons I have seen, equally useful for experienced practitioners as well as a short immersion course for newcomers to the German tradition.
Dr. Les Moore has become synonymous at WMAW with American Catch Wrestling (the colonial inheritor of English Catch-as-Catch Can), and he did not disappoint this year. But he also told me early on that he wanted to focus on beautifully illustrated, but slender self-defense work by Nicholas Petter. I confess I was a bit skeptical – not in Dr. Les, but in whether or not there was enough there for the class he was proposing, but since I hadn't looked at the text either seriously or in over a decade, I said OK. Apparently, that was a good move! I could. I could tell you my thoughts on the class, but I'll instead quote Jesscia Finley, herself no stranger to grappling: "I think I am in love with Dr. Les. Holy Crap that was good!" There you have it.
Jessica herself taught both a class on how to "spar" with historical wrestling and a 3-hour workshop on the work of Ott and Von Auserwald which also included a significant component on how to actually enter into wrestling: an area that many HEMA folks without prior knowledge of grappling, judo, etc are usually fairly weak. I only got to audit about half of the class, but I loved what I saw and my selfish solution will be to have her here for a private workshop.
Roland Warzecha has long been an advocate of slow-motion, free-form training, and this year he refrained from participating in coached fencing to instead teach an evening mini-class in his methods and principles. I cannot express how much the attendees loved this: I was cornered by almost every attendee and told "why can't we have him do an entire 3-hr workshop on this?" OK, OK, I get it – I'll talk to Roland… or at least, his alter-ego, The Dimicator.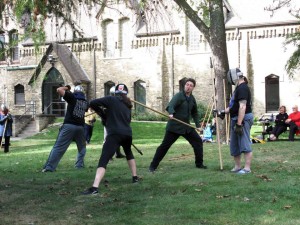 Unfortunately, my dear friend Tom Leoni took ill and had to drop out of the event, and combined with Devon Boorman's induction into the Dolorous Order of the Dislocated Digit (see below), I suddenly found myself picking up an extra 4.5 hours of teaching duty. I certainly didn't mind – it meant an excuse to play with polearms! – but it did sadly happen to coincide with exactly the remaining class slots I had left myself the freedom to attend. Damn! It also means that I was suddenly teaching first period Sunday morning – double damn! But I went to bed early(ish) like a good boy, and I hope that everyone enjoyed the workshop, which built off a pair of classes on Italian spear, and sword vs spear that I had co-taught with Devon One-Arm the day before. (How does a one-armed man teach spear? Through a body-double, of course, in this case Roland Cooper.)
I know there were other classes, and I know a lot of them were great: "Wow, Sons of Hauptgames was even better than the first! That was a really great rapier mechanics class! The Sneaky Stuff class really was…sneaky." But I didn't get to see them. (How *does* one get to be a guest at his own event?) I *did*get to see some of the lectures, from Elizabethan Sea Dogs to Spada da Popolo (the history of the Italian knife arts) and an intriguing lecture by Ben Roberts on the English longsword tradition. Mark Lancaster began the event with a lecture on A Hidden Tradition – a rumination of the "common art" of the Middle Ages which the various masters were improving upon or countering; essentially "what did most combatants know"? It was well-received and Mark is still working on the topic, so hopefully I'll see version 2.0 someday.
THE CHALLENGE TOURNAMENT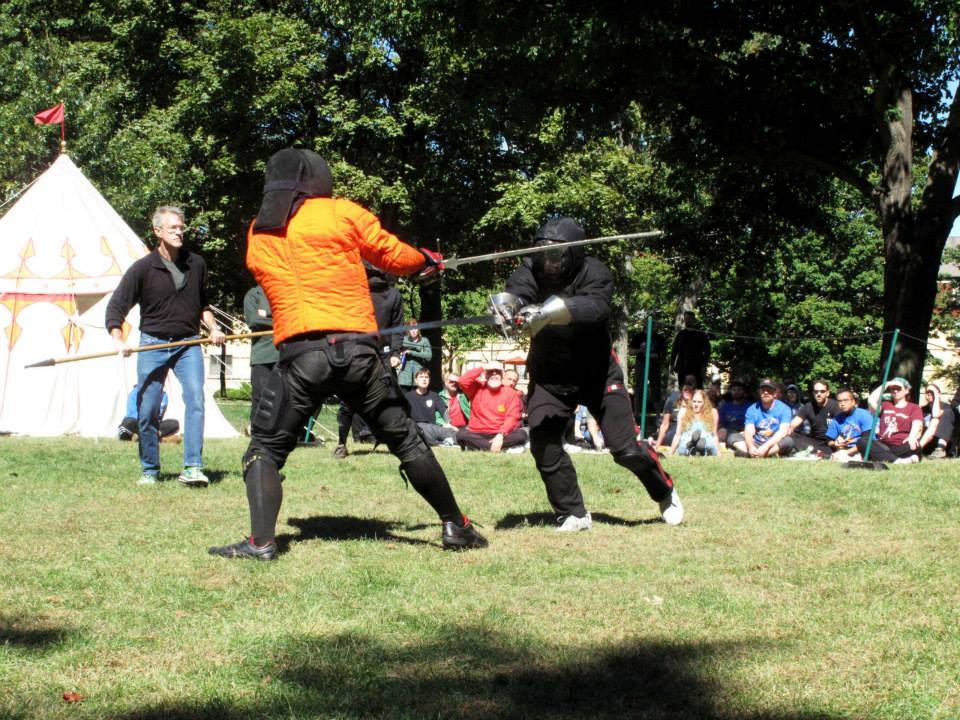 There has long been a great deal of discussion, interest and debate in the virtues and methods of competition in refining and testing martial arts skill, and a strong divide between traditional martial arts and combat sports. In recent years, this same interest, debate and specialization has become a part of  the Historical European Martial Arts community, with various sub-communities ascribing different levels of importance, emphasis and virtue to formalized competition.
My own views on the subject are similar to those eloquently expressed by new WMAW instructor Roger Norling in "The Wreath or the Cash" at his HROARR website: http://www.hroarr.com/the-wreath-or-the-cash-on-tournament-fighting/  and the WMAW Challenge Tournament, derived from a proposal by Maryland KdF member Ben Michels, was an attempt to put some of these ideas in practice. The tournament has  been developed with the following precepts in mind:
Competition should be a good test of physical skill as well as character; If combatants don't have a chance to fail both physically and personally in a match, you do not have a martial arts competition, you have a sports competition.
Judged combat can lead to awarding technically better fencing, but it also reduces the character test on combatants, as they are absolved from calling hits and learn to "sell" points. Fencing is the Art of Defense, and we see far too many double-hits in sparring;
The current emphasis on the After Blow in all fights, rather than the original "king of the hill format" has actually encouraged double-hits as people game the After Blow to negate an attack.
No one likes to be eliminated in "sudden death", one-hit fits, but that is the reality of a lethal fight with sharp swords. As Fiore dei Liberi wrote: "in one missed parry lies death".
Most fencing tends to be like vs like weapons, whereas the various masters all assert that their art works in all manners of combat, against all weapons.
No set of rules can accurately reflect real combat, only reward realistic tactics and deemphasize unrealistic ones.
With these rules in mind, Ben and I conceived the WMAW Challenge Tournament.  Here is how it worked.
The tournament was fought in two rounds – an open Challenge and invitational Finals. The Challenge Round was open to all attendees with the requisite equipment, began during Thursday night free-fencing and ran all through Friday classes, concluding with Friday night free fencing. Fights were conducted privately and judged on the honor system, based on the stated Scoring Conventions (see below).
Overall Victor received 2 pts;
The person who scored the first blow received 1 pt;
If there were any double hits during the match, both parties lost 1 pt.
Therefore, in any match a combatant could score between 3  and -1 points.
These rules were not meant to be "realistic", simply to prioritize drawing first blood and avoiding double-hits. No matter how many double hits, for the sake of simplicity, only 1 pt was lost.
Finally, Combatants could choose to fight in any of the following categories (and could participate in as many as they like): Longsword, Cut and Thrust Sword (inclusive of sword alone, sword and buckler, or sword and dagger), Thrusting Sword (Inclusive of rapier, rapier and dagger, rapier and cloak or smallsword). What defined which category you were fighting in is what you are armed with, not your opponent. Thus, if two combatants wish to meet in the field with longsword vs. rapier and dagger, they are welcome to do so – with one person receiving a score in the Longsword category and the other in the Thrusting Sword category.
After the Challenge Round ended, total scores for each combatant in each Weapon Category were totaled, and the top two combatants for each round moved to the finals, to be fought as an exhibition during Sunday' s lunch period. The Finals were a formally judged match, based on the rules designed by Sean Hayes for VISS. You can find those rules at http://chivalricfighting.wordpress.com/2013/08/14/tournament-rules/
The finalists in each round were:
Longsword: Mishael Lopes Cordosa and Roland Cooper (victory to Lopes)
Cut & Thrust: Bill Grandy and Doug Bahnick  (victory to Bill)
Thrusting Sword: Kathleen Gormanshaw and Nat Ward (victory to Kathleen)
So Did it Work?
Good question! The answer is: parts did and parts didn't.
The scoring conventions and open format of the Challenge round worked very well, not least of which because combatants were sometimes annoyed or frustrated by the results. "What do you mean I got zero points? I WON!" Yes, but you got hit first and double-hit. Look at it this way, your opponent got nothing, too! What was interesting was that in some cases, he who fought most and won most clearly dominated – Lopes had more points in longsword than the second and third place finish combined – at other times the two finalists had not fought that many bouts, but had managed to win, score first blood and avoid double-hits, as happened in the Cut & Thrust round.
The honor system worked just fine, but in part because we put in a caveat: if you couldn't agree on the results of the bout you went to the recorder and were forced to play Rock, Paper, Scissors. The victor in the Rock, Paper, Scissors was to be announced at Saturday's dinner. Act like a child, get treated like one. The RPS Solution was never invoked.
Now, a few people gamed round one – both parties scored poorly and decided not to report their results – and that's probably no better or worse than any other problem in tournaments, from poor or biased judging to gaming the After Blow. In this case it really didn't matter, because there was no prize to be won – as we made clear at the start, this was just an experiment to try various scoring and judging conventions with a heterogeneous audience.
The finals, IMO, and even within my own school it seems I was a minority, were a mixed bag. I appreciate what both the Longpoint rules and Sean Hayes' modifications to them seek to achieve, and I think they work well to train fighters, but within a tournament I think they take too long to score, make the action too staccato and make it hard for the audience to understand what they are seeing. I think that the idea of the system, including priority, which worked well, is good and can be refined and perhaps slimmed down for actual competition. In any event, you can see the system at work here, in the well-fought messer finals:
The major flaw with the tournament was that participation was lighter than anticipated and as I asked people why they weren't trying their luck, I heard a common refrain, even from those who like to compete: it was hard to move back and forth from a competitive mindset to a free-play mindset, from focusing on trying new things or being highly-technical to relying on "what worked". I hadn't really considered that, but in retrospect it makes good sense. I *was* happy to see that a number of folks did try mixed weapons, and that added some diversity and variety to the fighting.
At its core, WMAW is a teaching, research and networking event, not a tournament event, of which there are a growing number. I don't know that we'll do much with refining the model at WMAW itself, but those lessons will plug in to what we do with our off-year events. I will say that if I were to carry the experiment further forward, I would make phase one of the tournament focused on a single, three-hour evening block, probably advance the top four to the second phase, and perhaps have the two highest-scoring finalists of whatever weapon bout for the overall victory. But it was fun to try and it did reinforce my feeling that if your goal is to use competition as an adjunct to training, rather as a focus for a particular event, the rules can be quite minimalistic, and a lot is gained by not placing all responsibility in the hands of the judges. I look forward to chatting more with Ben, Jake and Sean about refinements in the days to come.
THE ARMOURED DEED OF ARMS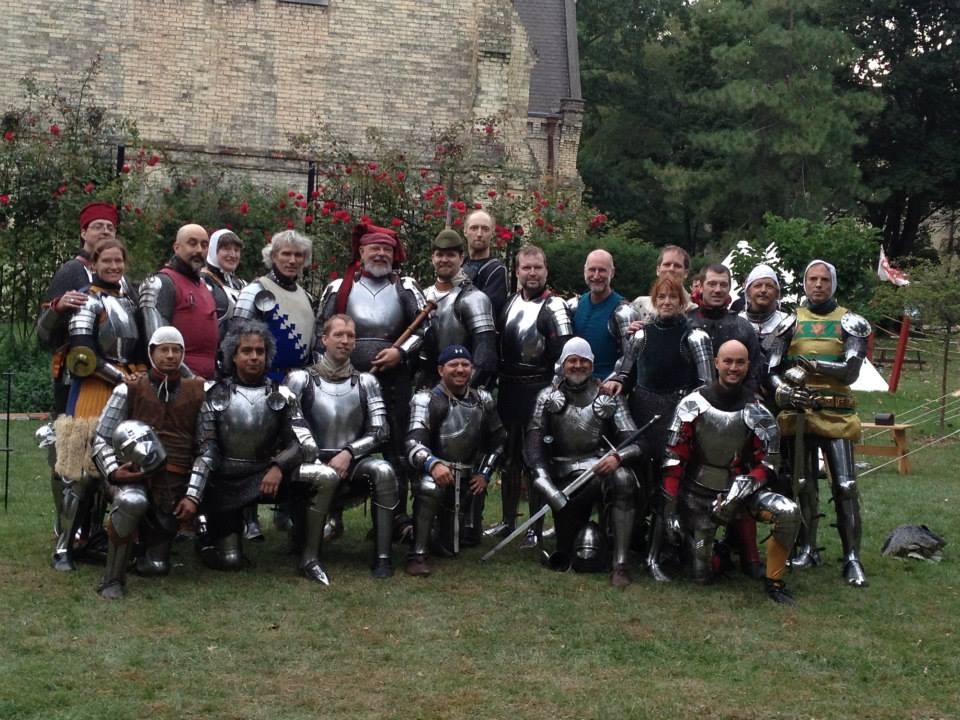 In the last few years a reconstruction of an Armoured Deed of Arms has become one part martial exercise, one part extended exhibition match. It is not meant to be a "reenactment" (although I certainly caught a few snickers about that), but rather an homage: if you are going to go the trouble of wearing $3 – 10K of armour and reconstruct armoured combat the best way to pressure test that is the same way as the people who did so originally. My model for this has been the modern jousting movement, where the competitors are in historical kit, using a modernized set of historical rules (generally for safety), with a ground crew in historical kit, but with no pretensions by the competitors or announcers that it is an historical event, anymore than dressage, fox hunt or rodeo riders pretend it is the 19th century, despite wearing a traditional 'costume'.
We must be doing something right, because from a meager handful of guys at the first Deed, there were nearly combatants this year, most in full, homogenous harness! Among the new faces were Christian Cameron, Marc Auger and Dr. Ken Mondschein.
Nicole Allen has long been the sole representative of the "armoured ladies who kick ass" contingent in these Deeds, but this year she was joined by Jessica Finley of the Old Dominion Fechtschule.  In fact, Jessica was chosen First Among Equals and invited to join the Companions of the Seven Swords. You can watch Jessica hand me my ass here:
Although I was disappointed with some of this year's Free Fencing (including the handful of pick-up bouts I managed to get in myself), I think we saw some of our best armoured combat matches, with everything from dagger to poleaxe. Judging of a good kit was a bit uneven – I generally required a more solid blow than Devon did – but we'll work that out, and I believe that all of the combatants felt "well-satisfied".
The Deed also had a second Deed with in! Last year, Bob Charrette, a founding member of the Seven Swords and a participant in all of the Deed we have hosted, asked if there might be a time and place to allow him to do a feat of arms in honor of his 60th birthday: to fight in harness for one minute for each year of his life. How could we possibly say no to that?
So in between each bout, Bob met a challenger with their their choice of dagger, sword, axe, short spear and long spear. Bob fulfilled his Deed and could have stood a few challenges more (although I suspect he was content not to have to do so) – an inspiring model for all of us to emulate! At the end of the Deed, he awarded each person he fought with a token: a figurine of the Master of the Segno, carved by his own hand. In turn, and to his great embarrassment, the Companions of the Seven Swords awarded him with a token of our own: a tournament sword in the style of Rene d'Anjou, made by Companion Scott Wilson of Darkwood Armoury, and inscribed with both Fiore's four virtues and a crowned 60. A fine end, to a fine deed!
The day could not have come to completion with the Dawn Stiers and her "squire team" who where indispensable in the running of the deed. Dawn is a master of organization who stepped in last year with my student Cooper Braun-Enos to whip the flow of the event into shape. This year, she and her crew made things move so smoothly that we finished half an hour early! A huge thanks to all of the team, especially Erin Fitzgerald, who was always on hand to help me with my armour, hand me water and make sure I knew where I was going and what I was doing.
SATURDAY NIGHT FIGHTS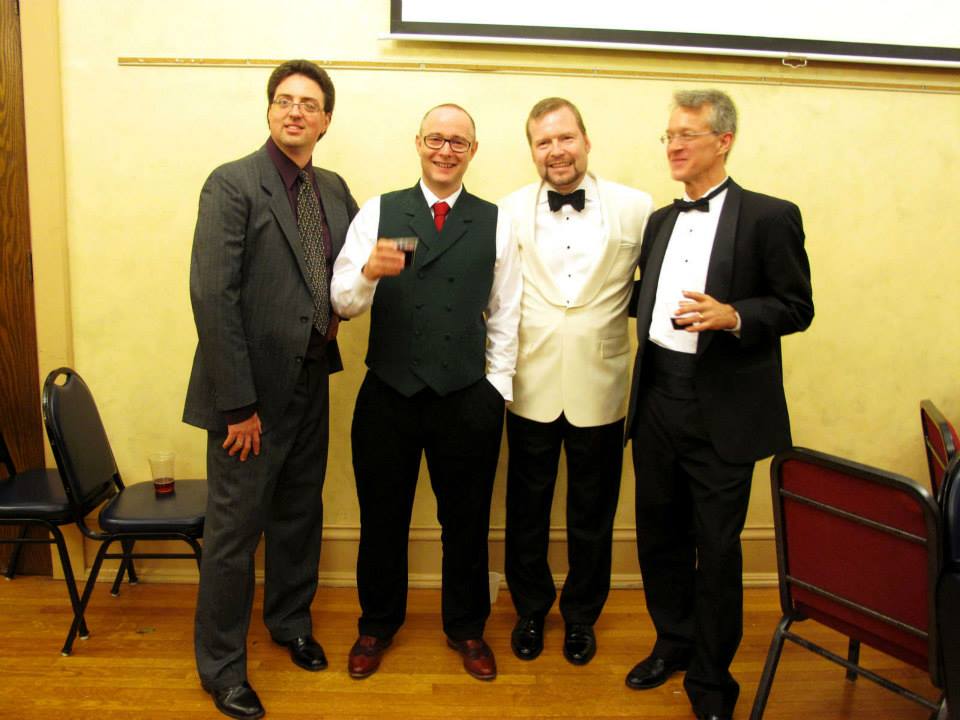 Saturday night's feast – an old-school pig roast – has become a tradition at WMAW. Every year we've had a different theme. One year was a costume party "celebrating 600 years of Western martial arts", another year was medieval, and last year was Victorian, in keeping with the entertainment: a reconstruction of a 19th c Assault of Arms, such as might have been seen at the Bartitsu Club. This year was modern formal.  Every year, Dr. Bill Ernoehazy, as master of ceremonies, takes on the persona of the theme and weaves that into his presentation style. But what do you do with modern formal?
Why, you do a 1940s-style Night at the Fights, of course! There might not have been quite enough sweat or cigarette smoke, but we did have a bell! (Some remarked that it looked suspiciously like the dinner bell Dekoven rings. I can only say that while it did have a certain resemblance, all I know is that I told Spark that "we need a bell" and a) a bell appeared and b) the dinner bell was in place at breakfast the next morning. What happened in between is a mystery.) We also had what was, beyond a doubt, some of the best demo bouts we have ever hosted, of which the one that must take special note was the messer bout, wearing only mensur-style googles and gloves, fought by Roland Warzecha and Jake Norwood:
This was one of the cleanest and finest martial displays I have *ever* had the privilege to watch. It also revealed Roland and Jake's alter-egos, as can also be seen from the photo at the bottom of this article…..
Standing in for both an injured Devon Boorman and John O'Meara, CSG's Rob Rutherfoord met Bill Grandy in an Italian rapier bout that was, bar none, the most technically clean we've ever had, while also being quite athletic. I don't think Rob needs to ever worry about being the "stand in" again!
Finally, the Demo Bouts have always featured swords, but this year we also had knives. Roberto Laura opened the demonstration with one of the elegant solo forms of the Italian knife schools, and there was a bout with American Bowie knives; a spirited display by Keith Jennings (CSG) and Thayne Alexander (RMSG). I think next time we need to chalk their blades….
All-in-all it was a great night of food, fencing and merriment, and a great capstone to the event.
THE DOLOROUS ORDER OF DISLOCATED DIGIT
Every event has its flaws. Although there were notable, and inspired exceptions (Jake Norwood and Keith Jennings, I am thinking of part two of your bout!), the freeplay quality was lower this year than at last WMAW. But the decided downside was an increased number of injuries, particularly to thumbs and fingers.  The two worst injuries were Sean Hayes's little fingers, broken by a pollaxe during the armoured Deed of Arms, and Mishael Lopes Cordoza's thumb, which we thought suffered a bad jam during the Challenge Tournament, but which in reality has a complex fracture (damn, damn and triple damn).
We've tried to look at the injuries that were recorded, what the combatants were fighting with and what, if anything could have been done to prevent the injury. Here's a little after action review:
Injury
Sean's finger was broken in a pollaxe bout with a new pollaxe  design. The weapon behaves really nicely – indeed, just like a pollaxe, which was the problem. The axe head was likely too narrow to distribute force, particularly against someone wearing finger gauntlets.
Solution
The solution is two-fold: 1) the weapons need to be redesigned and 2)combatants can consider wearing mitten gauntlets or additional finger bucklers when fighting  with the axe. Other than this, there isn't much to be done – the weapon is a mass weapon and the hands will always be vulnerable; just as was discussed historically;
Injury
Devon Boorman shoulder was injured during a throw, also during the Deed of Arms, which rendered him out of combat for the weekend and a lefty for teaching purposes for the next two days. At first I thought he might have dislocated the shoulder, but it proved to be just deep tissue bruising.
Solution
There really isn't one.  Grappling is inherently dangerous, and in harness the higher center-of gravity and lack of sensitivity often takes both people to the ground. In reviewing video, no one really did anything wrong, nor was the throw particularly dangerous – one combatant simply landed hard on the other. This injury probably falls into the realm of "things will happen in full-contact sports".
Injury
Lopes's thumb was broken at the middle joint during the first round of the Challenge Tournament. Of course, Lopes being Lopes, this in no way stopped him from fighting and winning the longsword finals, so I doubt most people realized how complete the fracture was until he got home and posted x-rays to Facebook.
Solution
During the particular bout where the injury happened, Lopes had complained about his opponent hacking needlessly hard. This may have been a matter of too much blow force (it is a sword, not a mace, people), and in a judged tournament the judges might have been there to step in, but in addition to this, I think this sort of injury is in turn a combination of training and culture issues and combatants being willing to say "Dude, quit hitting so damn hard."
Injury
We had three other notable hand injuries that I know about: a thumb that had its nail pulled back, a severely jammed thumb, a dislocated finger and a broken thumb. In talking to the combatants about how they happened, when, what they were fighting with, etc, here is what we were able to determine:
All of the injuries happened in longsword bouting;
All of the injuries noted above happened to practitioners of German longsword;
None of the combatants were wearing plate gauntlets, but what they *were* wearing varied from the custom gloves at Sparringglove.com, the cheap Absolute Force knock-offs and lacrosse gloves.
There was no consistency in the swords used in the injuries, but they included an Atrim I-beam sword, a Regenyei  feder, and an Albion Meyer.
Solution
We discussed this a lot with the instructors who stayed afterwards at the event, and I don't        really have one, in part because I don't think the injuries were because of a singular issue, but         rather a "perfect storm" of a variety of issues.
Swords – I can't say anything for certain, but I will note that each of our last three events someone has gotten a part of their hand mashed by the Atrim I-beam swords. I love Gus, but I really think he's recreated a crowbar, not a sword, with these weapons, and I think the use of this weapon in inter-group fencing and competition needs to be evaluated.
Blow force – I will say that I saw people hitting harder and relying on far more safety gear than in previous years. This was particularly true of those who come from a tournament-focus. More gear, more force, and while higher level combatants were good at modulating their power, lower level fighters emulating them clearly were relying on the armour to get the job done. The end result was that I saw a lot of what was familiar from my SCA days – a reliance on safety gear over control, and a lot of *hitting* with swords, as opposed to cutting – with the same sorts of injuries.
Safety-Gear: the problem clearly went beyond safety gear, but I do think that in some cases that exacerbated the problem. As I said in my review when the Absolute Force gloves came out, they do not have the shaping, dexterity or strength of the Fechtschule Gdansk gloves they knocked off. I particularly noted that the thumbs were flimsy, particularly at the joint, and the way they fold over the glove, instead of to tucking in (as seen in historical mitten gauntlets) made thumb injuries likely. I was told by the manufacturer "oh, everyone loves them".  Maybe so (although I think what they love is the price-point), but between WMAW and Armizare Academy I have now seen five significant thumb injuries to people wearing these gloves, and as blow force goes up, I suspect more will follow. If you have $120 hands, by all means wear $120 gloves, I guess.
Style: All of the thumb injuries happened to people who practice German arts. I don't think that is a critique of the style, but I do think that since it uses slipping in and out of the thumb grip, it is worth investigating how people are using that grip under adrenaline pressure, and with different sorts of hand protection, to determine if they are over extending or hyper-flexing their thumbs, making them more susceptible to being hit.
Shameless Personal Editorial: When the debates over historical gear vs. non-historical gear went through the community, one complaint was that the gambeson, gauntlets and helmets that some of us favored were "too bulky and too heavy" for unarmoured combat.  Indeed, that was the rationale behind many of the nylon swords, such as the Rawlings line. That argument may or may not be true, but the overall amount of kit that I saw the modernists wearing – full shin, knee and instep guards,  full arm guards over an Axel Petterson jacket (a gambeson by any other name), reinforcing gear *under* the jacket, sometimes black, plastic reinforcing gear (shaped, I might add, like medieval armour) the arms of the jacket, compression pants with protective plates, and so forth, was astounding. It also actually weighs notably more (and in the case of the hand protection, clearly protects less) then what I was told was too heavy to simulate "unarmoured combat". I think the virtue is it's modern and black. In any case, I think too much armour + blunt swords comes to less fear of closing and more percussive use of the weapon, making it more like stick-fighting than swordfighting. YMMV.
IN CLOSING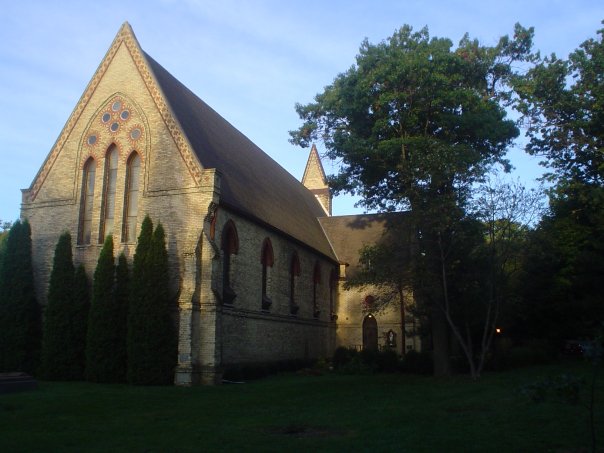 This was our most ambitious WMAW and I think our most successful; not just because the event was sold-out, but because attendees had a vast choice of activities, there was plenty of friendly blade-crossing, and I think the overall spirit and nature of the event was the most upbeat, warm and positive I have seen. WMAW was designed as a way to showcase research, try new things and build bridges, and I hope that was achieved with some of this year's new faces.
Of course the event only happens because of the tireless work of the WMAW event staff: Nicole Allen, John O'Meara, Jacques  Marcotte and Christina Bailey, and the hair-pulling efforts at ride coordination and equipment transportation by Davis Vader, whose job I would not do at gun-point.  Our staff's efforts only get us to the day of the event; after that it is the legion of Blue Shirt volunteers and drivers who make us pull the event off. Thank you, each and every one. And thanks to all of the students who make this worth doing time and again.
You can find additional WMAW reviews from Jake Norwood on the HEMA Alliance forum and a variety of instructors and attendees at the WMAW Facebook page.