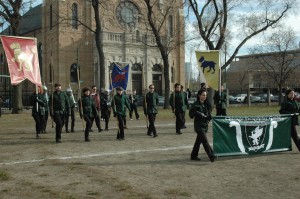 Arming swords were clashing as members of the Chicago Swordplay Guild participated in the City of Chicago's huge annual Thanksgiving Day Parade, which is one of two parades carried on national television. You can catch some video on the chicagofestivals.org website.
Flanked by colorful banners showcasing the Fiore animals and medieval Italian crests, the CSG specialty group included a spear formation doing thrust drills followed by a group of swordsmen fencing with arming swords. Kids and families coming to the parade – and ready to brave the predicted cold temps and possible sleet and snow flurries – were wowed.
Here are some pictures of the CSG Parade Team, taken by CSG's Gabrielle O' Meara, as we did our dress rehearsal with some of our banners last Saturday on the grounds of Pulaski Park.
Yes, the "Windy City" lived up to its name, as gusts fought the banners with gusto!