This past weekend I had the privilege to teach at the first Borealis Swordplay Symposium, accompanied by fellow Guilders Nicole Allen, Adam Schneider and Davis Vader.
Borealis grew out of an annual cookout and celebratory pas d'armes held by our Ottawan sister-school, Les Maitres des Armes. The photos from last year's event made it all seem like so much fun that Sean Hayes from the Northwest Fencing Academy and I both pledged to attend, and then suddenly, Jason Smith, LMdA's chief instructor, had conceived of a new event!.
PRE-EVENT: WELCOME TO CANADA, EH?
Sean Hayes flew into Chicago for a day of training and hanging out, before we headed off to Ottawa. Unfortunately, Sean's arrival was close on the heels of the death of my father after a long, debilitating illness – close enough that I had planned on canceling my attendance. It was my lovely girlfriend Tasha, who suggested that rather than my mother and I  spending the Father's Day weekend alone, I just pack Mom up and take her with – they could go sight-seeing as I hit people in the head with swords. Jason immediately agreed that this was a brilliant idea, so a little scrambling and our itinerary was adjusted, and were off.
If there is a defining trait for my friends in LMdA it is "warm". So, it was no surprise that from the moment we were picked up at the airport, we were somewhere between honored guests and close family. Our first night was a private dinner at the home of  Jason, his girlfriend Celine and their delightful children; Team Smith produced an amazing dinner of good food, good drink, and good company – all while entertaining us in a house they had moved in the week before!  Like any good son, I threw Mom in the deep end, and she was soon hearing about odd fencing terms, pedagogical debates and a variety of other things which she said she "didn't understand, but seemed interesting, particularly after the second glass of wine."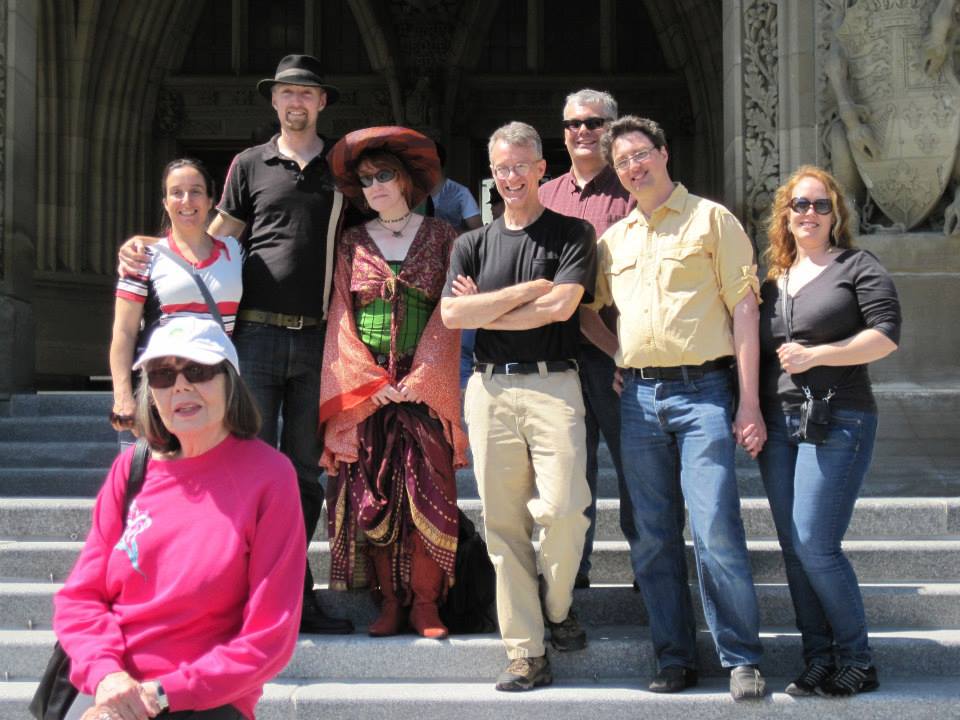 The next day was a relaxed walking tour of downtown Ottawa, which is a beautiful and *spotless* city. We were joined by the Mighty Might of Les Maitres des Armes, Rachel Beauchamp, and her delightful daughter, Michelle. Our tour began at the Museum of Civilization, took a river taxi to climb alongside the locks, made our way through the downtown to the crowded outdoor market, and then had an entirely-too-delicious lunch  in a delightful pâtissière that immediately put me right back in Paris. From there we toured the Neo-Gothic splendor of the Canadian Parliament and as dinner time came our feet were quite ready to get in the car and head for home, where a housewarming potluck awaited at Jason and Celine's. What a shock, the food was amazing – especially when accompanied by the brewing mastery of Jim Clark of LMD, whose hop-less medieval beer had claimed my hear at Chivalric Weekend, years before. Jim did not disappoint, but Tasha, Mom and I all started nodding off early, so we regretfully drove back to the hotel as the party was still going strong.
(Meanwhile, Davis and Adam – aka, the CSG Armour Sherpas – were on an educational tour of the Flop-Houses of Dearborn Michigan. This is a tale best left untold, but I will offer this advice – if your hotel parking lot has a giant billboard that points towards the closest emergency medical service, you probably shouldn't sleep there.)
 ENTER THE SALA – DAY ONE
Saturday was the class day of Borealis.  Sometime in the previous night, our bedraggled Armour Sherpas had arrived, and I found all of my gear awaiting me (for the record – Armour Sherpas rock!).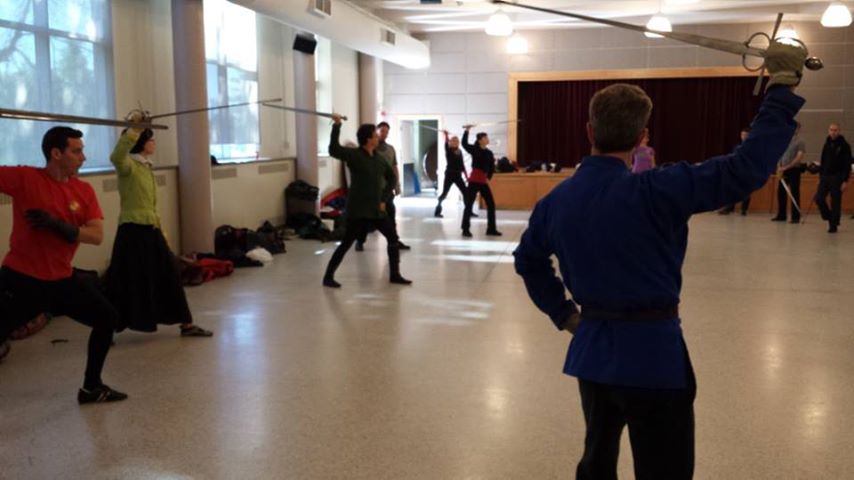 Sean Hayes taught an armoured class, ably assisted by Bill Ernoehazy and the Guild's Nicole Allen, while I taught a class on the sword in one hand, and how its presentation in the Getty Ms is designed to be a direct parallel in organization to both the equestrian combat and the plays of the dagger. Of course, LMdA is a "Fiore Shop" and Jason and I see armizare very similarly, so my class was full of ringers. Having said that, easily half came from outside the school and were either German swordsmen, Bolognese fencers or had never really worked with the one-handed sword. Even so, the students were attentive, courteous and trained diligently, carefully, and with great focus for the entire two hours. It was a delightful class to teach, with my only regret being that I couldn't split myself so that I could have simultaneously been taking Sean's class.
Following my class, Devon Boorman introduced students to the mechanics of Bolognese sword and buckler fencing, while Jason taught an informative, but light-hearted class on using the pommel and hilt of the sword as  weapon. People cheerfully chuckled and laughed as the "popped" each other, levered one another over and threw each other to the ground, but one wonders how many thought about just how ugly a pommel strike to the teeth really is….
Celine and Rachel's mothers then filled our bellies with a lovely homemade lunch, before Sean, Devon Boorman and I were on-tap to team-teach a 2-hour Applied Combatives class. Sean introduced a lesson on structure and strike in True Times, Devon took those principles and showed how to apply them to controlling measure and learning how and when to come to the cross, and then I showed how this in turn could inform specific techniques – taking plays that Fiore teaches defensively, such as the Exchange of Thrusts, and demonstrating how to apply them offensively. We joked afterwards about our five minutes of preparation before class, which is literally true, but in a much larger sense we've been prepping this class for years.  All of us have taught together, trained together, been guests in each other's schools, and have very similar theories on armizare, so this really was a delight to teach and I think we succeeded in sending the students home with new ideas and concepts they could use to build drills of their own.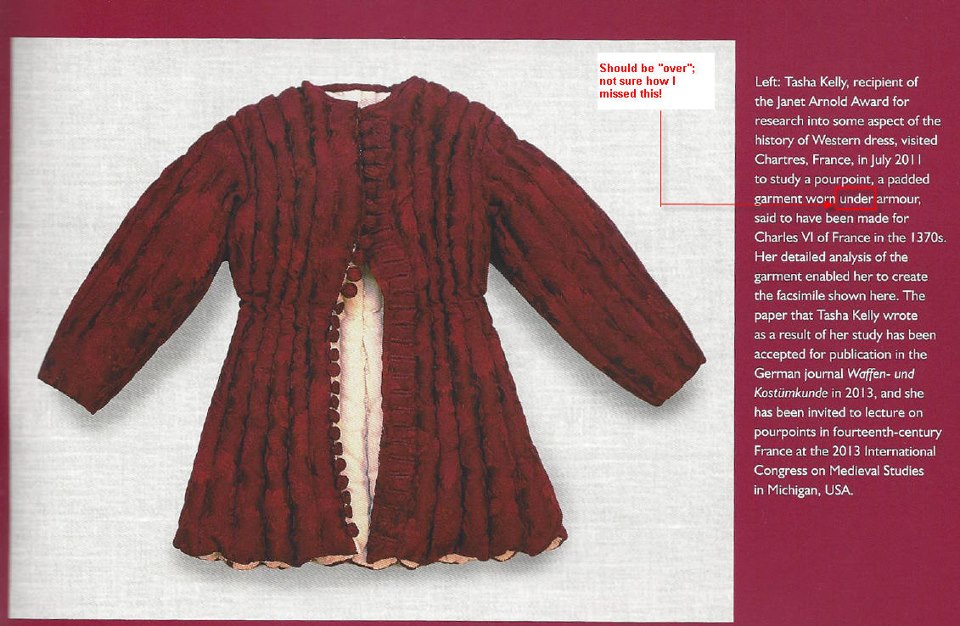 The final event of the day was Tasha Kelly's presentation on her detailed analysis of the famed Charles VI gambeson (aka "Red Charlie"), including a showing of her reproduction.  Of course, having been a proof-reader for her paper, which has just been published in the German journal Waffen und Kostumekundst, I had heard this before, but I was really curious to see how much interest a lecture on arming clothes would garner at a HEMA event, especially while open sparring was going on. The answer was a lot – about a third of the attendees turned up, and she was asked a bevy of highly detailed questions,  all of which she was able to answer. On yet again seeing the reconstruction of Red Charlie, I continue to remain bitter that it was sized to an 8 year old child, rather than, oh, say a 6'2 man….
Day One at its end, we returned to the Marketplace to a wonderful Irish Pub where we gorged ourselves on pub grub and good beer. That evening I had a chance to have a great chat with Pascal Theriau and Katia Chouinard of Arte Dimicatoria in Montreal. Pascal gave me an overview of the growth and evolution of Western Martial Arts in Quebec, which as a decided Anglophone, I have to confess I've been embarrassingly ignorant about – something I hope to rectify in the future.
PAS D'SOLSTICE – DAY TWO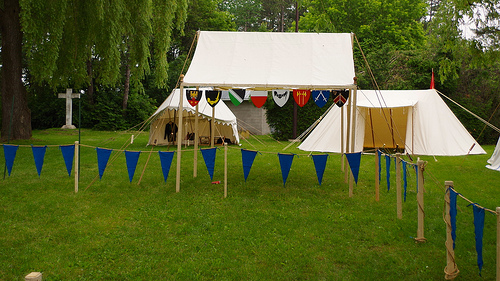 If the first day of the event was classes, the second day was nothing but fighting, fighting and more fighting. Bernard Emerich had designed a beautiful, outdoor fighting list, surrounded by brightly painted pavilions and banners, but after days of beautiful breezes and fluffy, white clouds, fickle Dame Fortuna sent us a never-ending rain shower that began an hour before the event and lasted for most of the day, forcing us to retire back inside.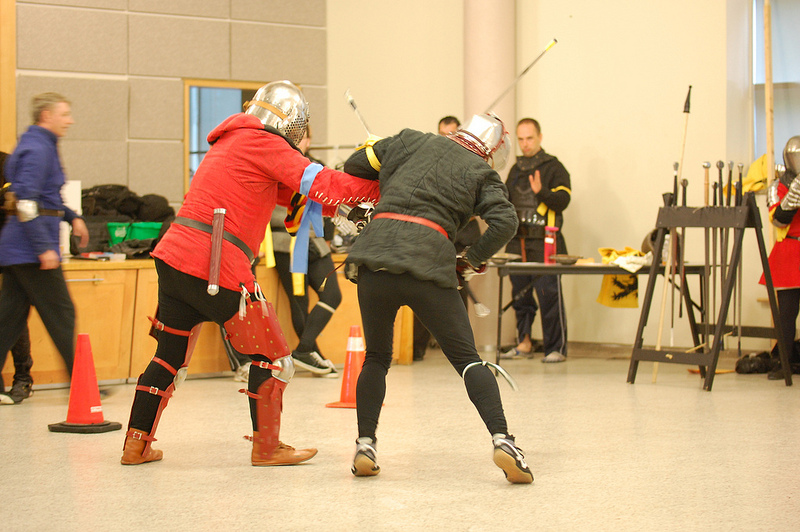 Undaunted by the elements, fighting commenced. The unarmoured tournament ran in heats of competing teams labeled Udine, France, England and Swabia. The first heat ran for three hours, took a break for lunch and the armoured deed of arms and then picked up again for several more hours. Weapons included longsword, arming sword, spear, sword and buckler and daggers. I marshaled the morning rounds, but Adam and Davis took the lists on behalf of Udine and Swabia, and fought a number of spirited bouts – some bringing them victory, other a beautiful collection of "educational bruises". Particular stand-outs for me were Christopher Duffy's arming sword bouts, a similar match between long-time fencers Dr. Bill and Christian Cameron, and Jim Clark's Bolognese fencing. Although Jim sometimes lived and died by the same technique, there was a precision to his work that showed me that he and Dan Sellars have been not only diligently training their Dall'Agocchie, but thinking about how to apply it.
The armoured pas d'armes was modeled on similar events held at the Fiore 600 and Armizare Academy – a system of pre-arranged challenges, fought until one of a variety of conditions is met:
Five blows are landed upon one combatant in a way that would compromise the harness with sharp weapons;
One combatant is completely disarmed of all weapons;
One combatant drives another from the list.
A set-time limit is reached.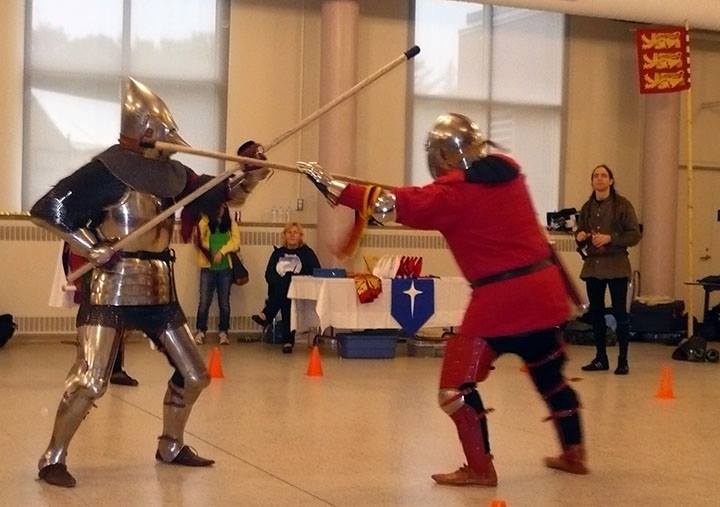 Weapons included the sword, spear, pollaxe and dagger. In previous events, being thrown to the ground was also a loss, but at the Pas d'Solstice, it counted as a "point". We started late, and had 18 combatants, so there was really only time for 2 – 3 bouts for each fighter. My long-time friend and honorary CSG instructor, Dr. Bill Ernoehazy and I were the first bout, a very fun exchange with spears, which I am told that I won 5 – 2. That may be so, but I wish it had gone 5-4 so we could have kept trading blows! Dr. Bill kept it "all in the family" by also giving Nicole Allen her first fight in the lists, again with spears.
My second fight was also with spears, this time against a Facebook acquaintance – historical novelist Christian Cameron. Christian and I had "met" via my colleague Guy Windsor, who had told me at the time that he was a "chap's chap, a reeactor of the first degree, a swordsman and a gentleman". If anything, Guy undersold his friend. He and his people kept insisting that they were "living historians who swordfight", to which I say bullsh!t. They were fantastic students and good fighters. Christian does not dress like a knight to research his novels – he is one in his demeanor and actions. What really warmed my heart was how he sought out newcomers who were shy to ask for fights and gave them solid encounters while not simply destroying them, nor making it seem like he was just playing down. We had a delightful spear bout, and I am still fuzzy as to who was declared the victor, but I count the win as mine, because I came away with a new friend whom I feel like I have known most of my life.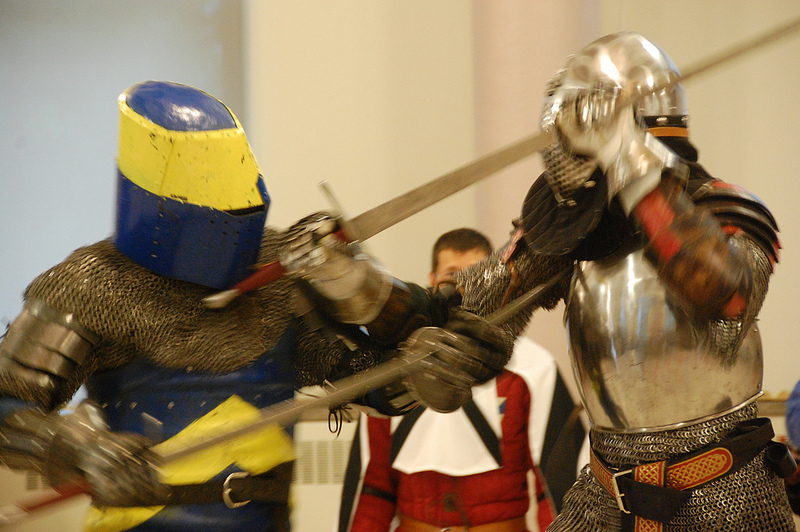 There were some other excellent bouts or moments of bouts – Chris Duffy executed a fight-ending throw that had a level of effortlessness and clenliness to it that was a sight to behold, 'Kristall Crash' wielded her poleaxe with aplomb, but the fight of the day goes to Sean and Matt McKee of the the St. Lawrence Swordfighter's Guild who had what was quite possibly the best armoured spear fight I have ever seen. Beginning in long range, they crossed, began to wield their spears like staves, struck with the heel, disengaged, clashed together and it all began again. It was fantastic, and having never Matt before, I was extremely impressed by his fencing in the list – both in and out of harness! And oh yeah, he's really good people, too!
Unlike previous events, the armoured bouts were not judged, merely called on the honor system. Now, those who know me know that I do not mind judged contests, but strongly oppose those in which the combatants are expected to stand mute to their own detriment – that is, where they may not refuse a point or call a hit against themselves – as it simply moves the combat one step closer to a simple sports match. However, I will say that purely having the combatants call the hits in the armoured pas d'armes proved to be problematic, not because anyone was trying to shrug blows, but rather because in a visor it can be hard to see if a hit was with the point or not. I am sure that all of us inadvertently denied some good hits or acknowledged some iffy ones, and in the end, it really didn't matter, but I think the exact format for calling hits probably needs some refining.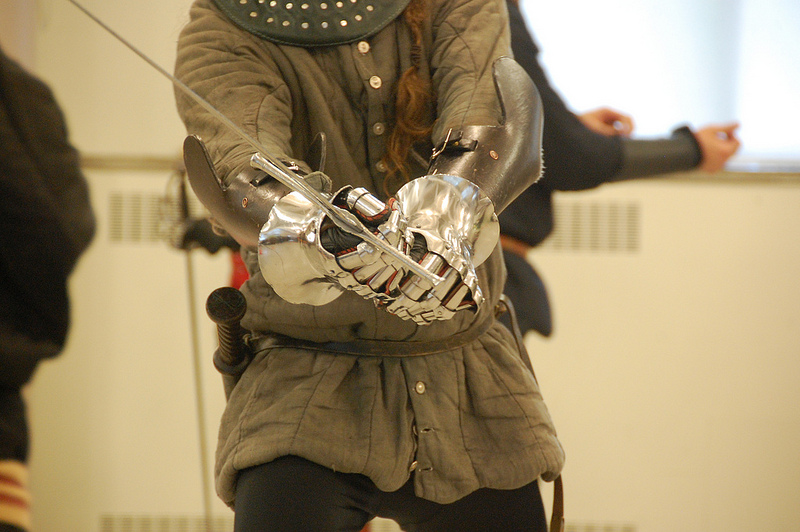 Once we were done being the world's noisiest dinner theatre, the final round of the unarmoured tournament began – with many of the folks in harness stripping down, getting their light kit on and jumping right back into the fray!  And for those for who a solid fix hours of fighting wasn't enough, there was an hour or so of open-floor time to exhaust them – although as one of the last two people on the floor when it was at last called to a halt, it is debatable if our own Davis Vader was ever satiated.
When all was said and done, a small subset of out-of-town guests (including Ser Cameron, who had sworn that he had "to dash, as soon as all was done") and Les Maitres des Armes members retired to a nearby pub for beers, food, and various silly, raucous conversation. (Oh, and most importantly – poutine!)
CONCLUSION
Of the various sala d'arme I have encountered over the years, Les Maitres des Armes has always been one of those closest to my heart, as we share the same art, the same sentiments of how to train in it, and the same philosophy of what these arts can be and can make of those who study them. But I have also just always loved the caliber of people who call this school home, and as the school has grown, that has only become more true. Guys, you are something special, and you just gave us an event that was equally so.
I also think that Jason and his wonderful school have created a model for melding classes and tournaments in this event to which those of us in the Chivalric Fighting Arts Association need to pay attention. With all of the laborious "to tournament or not to tournament" debate of recent years, Les Maitres des Armes created the "unTournament". Yes, there were combat conventions and victory conditions, but at their heart was "don't be a dick and fight fair". There was a winner declared by points, as well as a victorious team, but there was also a Princeps, chosen by the marshals and instructors for exhibiting a combination of skill, adherence to martial principles, tenaciousness and spirit – how you fought, how you conducted yourself, etc. And you know what, it was the Princeps – the very deserving Rachel Beauchamp – that received the greatest cheers from the gallery.
I say all of this because this was not an in-school tournament; there were people from probably five different schools, many with very different philosophies, and some very much a part of the ultra-modernist philosophy. They arrived skeptics and went home well-satisfied and satiated too.
Was every fight a perfect expression of the Art? Hell no. But was every fight that I marshaled was a serious attempt by those combatants to express the art to their level of understanding and ability? Yes. Yes it was. I can honestly say that this was the best overall attempt I have ever seen to express what we study in a competitive fashion that still kept the integrity of the art as a combat discipline.
It was a beautiful four days coming all-too-soon atop of one of the worst experiences of my life. I am grateful to have had the opportunity for my mother and I to have gotten a little soul-healing at the Canadian version of Elrond's House, surrounded by old friends, and having made many, many new ones.
You can see more photos of the event here.