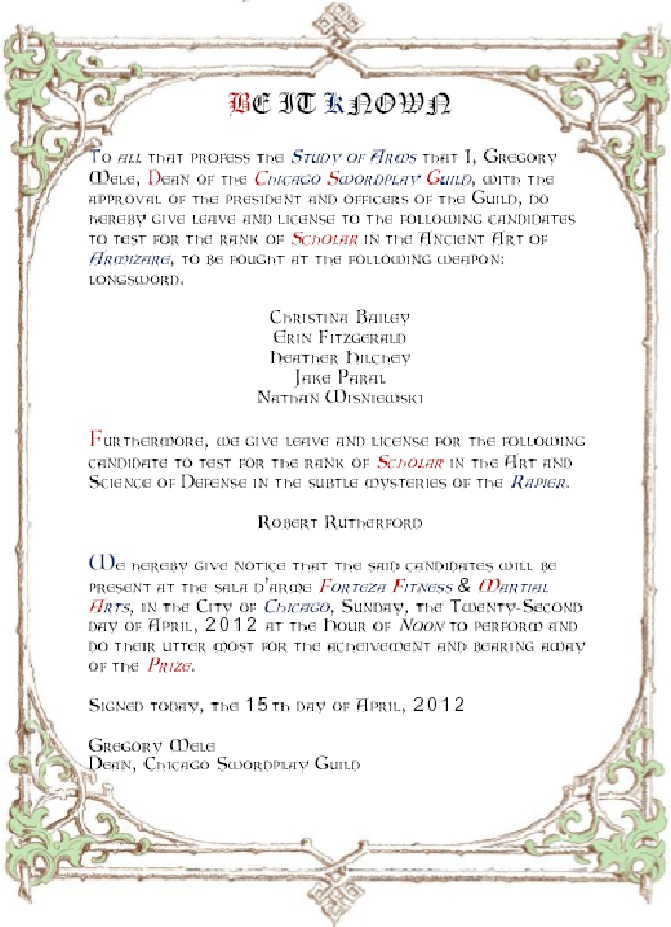 What is a "Prize Playing"?
The Chicago Swordplay Guild utilizes a ranking system based on the medieval academic system,formalized around the 14th century. This system, in several variations, was ultimately adopted by the historical fencing guilds of England, France, Germany, Italy, and Spain and generally included three to four ranks, or grades, beginning with Scholar and ending in Master at Arms.
One of the most important steps in the progression through the grades was the concept of prize playing. This is the western equivalent to the promotion testing of Asian martial arts systems. The "plaingy for the prize" is comprised of two steps. The first step occurs as an internal event, comprised of written and physical tests to assess the student's skills. The second step is for the student to submit a challenge for a public prize playing (free fencing exhibition), for the grade being tested for. Prize playings were public, boisterous events, often fought in inn yards on raised stages, and included music, food, and rowdy, cheering (or booing audiences). These were the precursors to the "prize fighting" that would become associated with boxing in the 1800s.
In this same tradition, the Chicago Swordplay Guild and Forteza Fitness & Martial Arts are pleased to present this public exhibition of arms. We hope to see you there!