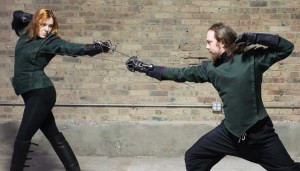 On Sunday, March 4th from noon to 4:00pm, Forteza Fitness & Martial Arts – the new home of the CSG at 4437 N. Ravenswood Ave. – is holding a special Open House to showcase our swordfighting, physical fitness and Western martial arts classes. The public and members of the media are welcome!
Going "Old School" in a Whole New Way. Unlike traditional martial arts studios, gyms or health clubs, Forteza Fitness & Martial Arts is Chicago's newest and most unique fitness studio. Come check out our new 5000 sq ft facility. Light refreshments will be served.
Enjoy Demos & Free Mini-Lessons. Drop by any time between noon and 4:00pm. Greg Mele, Keith Jennings and the Forteza Fitness staff will also provide short talks, live action demos and free mini-lessons to our guests, including:
Armizare: the Martial Art of the Medieval Knight –  including the two-handed sword, spear and dagger
Renaissance Swordplay: the Art of the Duel –  including the rapier, rapier and dagger, and rapier and cloak
Bartitsu: The 'Lost Martial Art' of Sherlock Holmes –  a unique Edwardian blend of Eastern and Western fighting arts
Garimot Anis: Traditional Martial Arts of the Philippines – including fast-action self-defense techniques against a knife
Stage Combat Arts  – combat arts adapted to the theatre, by R&D Choreography
Stunt Display – an exciting stunt display by Asylum Stunts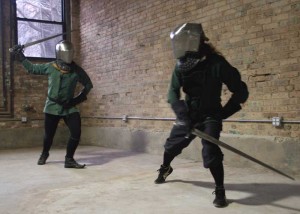 There will also be a hands-on table display of the weapons and armor we use for training.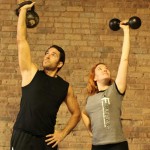 Free health and fitness consultations. Have you, or someone you know, been looking to get healthy and active in the New Year, but not sure where to start?  Forteza Fitness offers onsite personal training and health/nutrition counseling!  As part of our Open House event, our expert personal trainers and health counselors will be offering free 30-minute consultations.  This will be by appointment only, so if you're serious about building a better you, please contact us at info@fortezafitness.com to schedule your complimentary session now!
Try out FightingFit! From 10am-11am, we will also be offering a special, one-hour sample class of our dynamic FightingFit program! We'll lead you through a short series of exercises, drawn from a variety of fighting systems, that can mold you into your most powerful self. Ping us at info@fortezafitness.com to register for this free class (age 16 and up).
Please note: Children are welcome but must be closely supervised by the parents. Be sure to ask about Forteza's "Knight School" – our 2012 swordfighting and fitness camps for kids, young adults and teens!
Forteza Fitness & Martial Arts is located at 4437 N. Ravenswood Ave. in Chicago, with plenty of street parking along the Ravenswood Brown Line station. The main entrance is inset off the street, right next to Nadeau.
Any questions, please contact us.  See our FortezaFitness.com website preview!