Welcome to the Chicago Swordplay Guild , where the art of the sword is undergoing a second Renaissance!  We train four times a week at our home studio, Forteza Fitness, Physical Culture & Martial Arts.  Located in the beautiful Ravenswood neighborhood on Chicago's near northside, Forteza is an almost 5000 sf facility that was designed and built specifically for the study of western martial arts.
Outside of Chicago, training in Armizare (medieval swordsmanship) is available via our Milwaukee Training Group, through our daughter school, the Rocky Mountain Swordplay Guild, in Denver, Colorado and via small study groups in eastern Pennsylvania and both Austin and Houston, Texas.
Below you'll find a complete description of where we train, sub-pages on our curriculum and ranking system, and best of all, how you can become a part of it. You can find out a great deal more about the specific martial arts we study under the Tradition, and if you have additional questions, feel free to contact us.
Introductory Classes — Two Exciting Options!
Do you feel the "song of the sword" calling to you? Our introductory classes are designed to give students a basic overview of the style of swordsmanship and methods of practice used by the Guild.
Introduction to the Longsword – A Taste of the Knightly Arts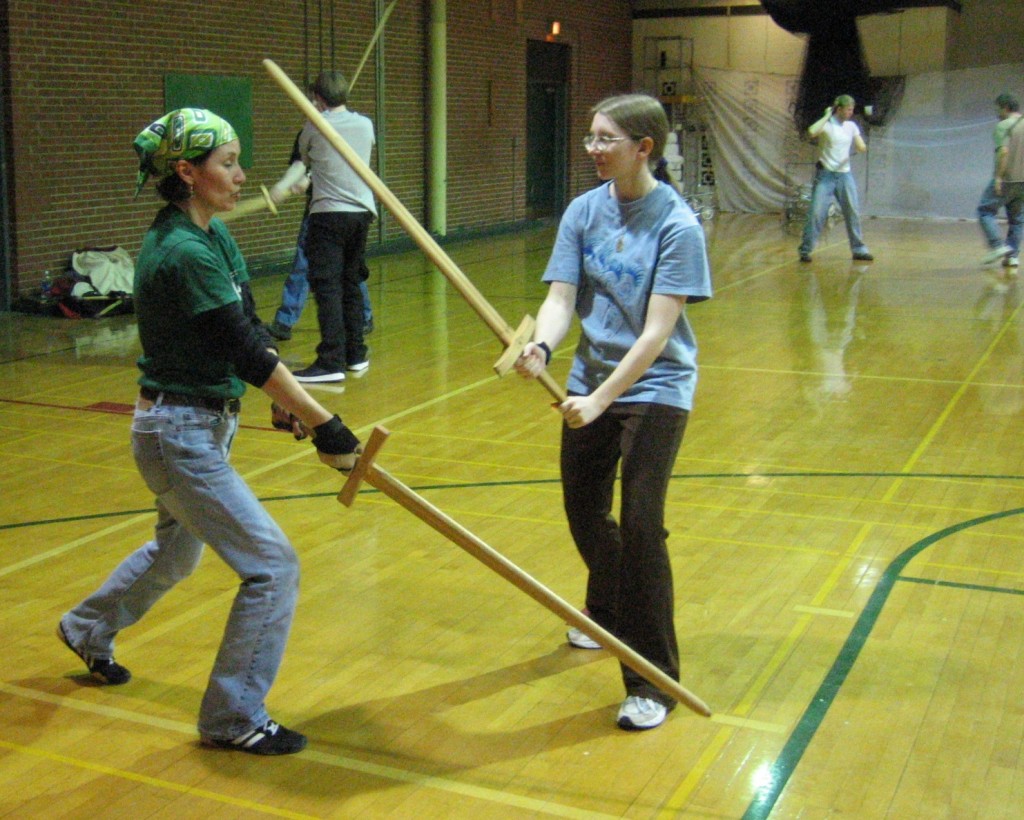 Learn an actual historical style of medieval European swordsmanship, based entirely on the documented methods of 14th and 15th century Italian masters of defense! This introductory and continuing course provides the basics of medieval swordsmanship training as a foundation for more advanced practice, including stances, posture, movement, and methods of striking and defending with the medieval "hand and a half" sword. The course will include demonstrations, drills, and free-play with safety gear and simulated weapons. Beginners welcome. No prior martial arts experience is required.
Introduction to the Rapier – A Taste of the Renaissance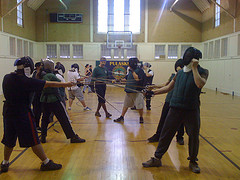 The rapier was the dueling weapon of the Renaissance — the sword of Shakespeare, Cyrano de Bergerac, and the Three Musketeers! This class surveys 16th century fencing texts to teach the basic use of this elegant and deadly weapon, which many a gentleman used to defend his life and honor. Through drills and free-fencing using weapons with flexible blades, students will learn the basics of the rapier fight: balance and footwork, blade control, time, distance, attack, and defense. Fencing equipment is provided. Beginners welcome. No prior experience is necessary.
Introductory classes at Forteza are $150 for a 12 class session, payable by cash, check, credit card or money order. No equipment fee. You will fill out the registration form on the first day of class. Join now!
ON-GOING CLASSES – Guild Members only.
Membership in the Chicago Swordplay Guild is by invitation only, and may be offered to students who have completed at least one session of either the introductory rapier or longsword classes. Visitors are welcome to come and observe. However,  participation is restricted to Guild members. Interested students should begin by enrolling in one of the introductory classes.
In Chicago, the Guild trains four days a week  at Forteza Fitness, Physical Culture & Martial Arts, 4437 N. Ravenswood Ave, Chicago, IL 60640.
Membership Fees
Association Fee: $50 per year.
All active CSG members, members of daughter schools and "inactive" members, who wish to remain a part of the larger Guild family. Associate Members who live more than 60 miles from Chicago, or study with a daughter school, may attend intro classes in Chicago as time allows, and may train in appropriate level on-going classes by paying a simple mat-fee at Forteza. "Inactive" members are those who are not attending classes but still want to maintain a relationship with the Guild.
Guild membership is required for all students to progress beyond the Taster classes, but provides students with a number of benefits, including:
Access to rank testing within the Guild
Discounted admission to related workshops and seminars at Forteza;
Discounted admission to the Guild sponsored Western Martial Arts Workshop, the world's premier seminar for the study of European swordplay and fighting traditions.
Monthly Tuition
On-going tuition is not paid to the Chicago Swordplay Guild, but rather to Forteza Fitness, Physical Culture & Martial Arts. Tuition rates are based on a sliding scale, depending on how often students wish to train; from a casual, drop-in fee to an all-inclusive package.  Discounts for family members, active military, police and full-time students are available.